We have almost 1,000 Garden Club Members!
Sickles Garden Club Members earn great rewards as they shop in the Garden Center! They also receive weekly plant care guidance, and news about product arrivals, and so much more!
 How does the Planter's Pass work?
– Each Stamp represents a $50.00 spend in the Garden Center.
-After every two stamps you will earn a fabulous reward.
-All the rewards are listed on the back of the card.
-One stamp per customer per day
-Each card has 10 stamps.
–When you sign up to be a Garden Club Member you are also signed up to be a Good Stuff Member which earns you sale prices in all other departments!
            Don't forget to pick up your Planter's Pass at Customer Service! It looks like this!
 The Fall/Winter 2021 Planter's Pass!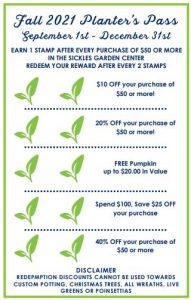 GARDEN CLUB DISCLAIMER
Good stuff Membership is required for Sickles Garden Club Membership. You must present your Planter's Pass at the time of purchase to earn your stamps. Minimum $50 Garden Center purchase required each visit. One stamp per customer per day. Valid at Sickles Market Little Silver ONLY. Sickles reserves the right to amend or cancel rewards at any time.  All Christmas Trees, Wreaths, Poinsettias, Live Greens, Custom Potting and Delivery Fees are excluded from Rewards Redemption Discounts or Poinsettias.
SIGN UP FOR THE SICKLES GARDEN CLUB BELOW…