Cheese Lover's Letter: February Delights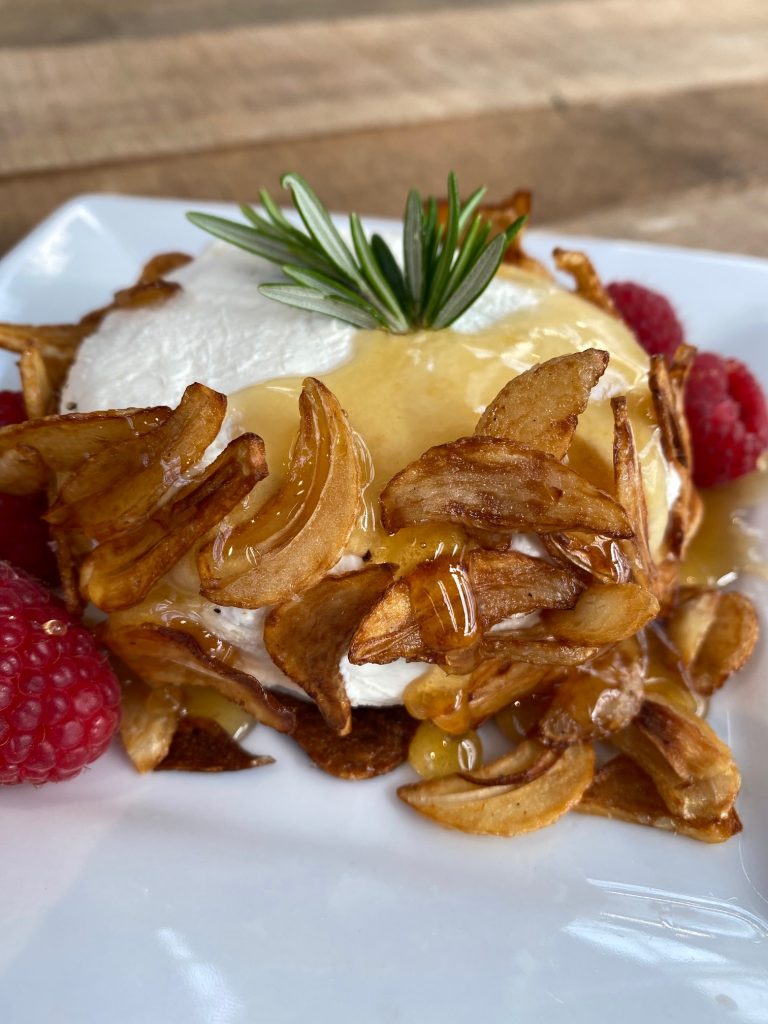 Greetings from the Fine Cheese Department!
All you need is love and lots of cheese.
As Valentine's Day approaches, we are thinking about all the ways you can spoil the ones you love. We'd bet a winning lottery ticket that you can't go wrong with a cheese board from our fine cheese department.
Let us know what you like in terms of fine cheese and charcuterie and we can create a custom board for you and your valentine!
Or…you can go with our Cheese Plate for Two.
It was so popular last year, we decided to do it again!
Read on about our monthly favorites and our decadent recipe pictured above and described at the end. It is guaranteed to leave your taste buds dazzled and your hearts full.
The Star of the Show: Velvet Bees Honey Butter
Velvet Bees Honey Butter is a decadent concoction of honey, butter, heavy cream, cane sugar and natural vanilla. Its texture is rich and spoonable, while its flavor is sweet (but not too sugary) and custardy. A delightful and versatile condiment, honey butter can be dolloped on fresh or grilled fruit, folded into ricotta fresca or yogurt, even stirred into a hot toddy or a hot buttered rum. This stuff is nothing short of bliss in a jar, especially if you're a fan of crème anglaise.
Handcrafted in small batches and made without preservatives.
Saint Paul, Minnesota. Producers: Steve Aspinwall and Krista Koppinger.
The Wheel Deal: Robiola Bosina
on sale until February 29, 2020
Now 30% OFF
Reg. $14.49 ea
Bosina is a small square-shaped cheese with a thin downy edible rind. Its texture is soft, silken, supple, and with age, a bit runny. Although it's tempting to liken Bosina to Brie in terms of consistency, Bosina is measurably the lusher of the two. And while its dominant flavors are milky and buttery, its array of mushroom, grass and mineral tones gives the cheese extraordinary character. Bosina takes its name from its town of origin Bosia, situated between Alba and Cortemilia. Thermized Cow and Sheep Milks. Aged 15 days. Piedmont, Italy. Producer: Caseificio dell'Alta Langa.
Pair Bosina with lighter reds such as Pinot Noir or Beaujolais available at
Bottles by Sickles in Red Bank, NJ.

The Monthly Blend:
Garlic Lovers Chevre Petit Billy Chevre with Crispy Garlic Chips, Raspberry Honey & Fresh Rosemary.
Petit Billy is a fresh puck-shaped rindless chevre. Its rich mousse-like texture is just a touch firmer than ricotta fresca. And its mellow, milky flavor is just a touch tangier than Greek yogurt. Perhaps because of its sheer creaminess Petit Billy is regarded as a dessert cheese. Indeed it goes very well with fresh fruits of the season, syrups and coulis. However, it is equally delicious when it is underscored by savory elements like aromatic spices, nuts and crudités. Why not take a 'best of both worlds' approach to enjoying this cheese? Our sweet and piquant Petit Billy dish is yummy and easy to assemble. We call it the "Garlic Lovers Chevre" in tribute to our favorite allium (and also to Valentine's Day). It's a wonderful constituent part to a meal and is perfectly sized for two.

Here's what you'll need:
1 Petit Billy Chevre (whole piece)
6 garlic cloves
¼ cup olive oil
½ teaspoon minced fresh rosemary
2 tablespoons Bee Raw Maine Raspberry Honey
1 warmed baguette, sliced.

Here's what you'll do:
Carefully remove Petit Billy from its packaging and place it on an absorbent paper towel to soak up any whey. Transfer the cheese to a small serving plate and set it aside, allowing it to stand at room temperature for about 30 minutes. Meanwhile prepare the garlic chips: Peel the cloves and slice them thin lengthwise. In a small skillet over low-medium flame heat the olive oil. When the oil is hot add the garlic slices. Sautee the garlic for about a minute or until it's a light golden brown. Stir the garlic intermittently while its cooking to ensure it doesn't burn. Remove the slices from the pan and place them on paper towels. Let them sit for about two minutes. Arrange the crisped garlic chips along the sides and top of Petit Billy. Apply gentle pressure to the chips so that they'll stick to the cheese. Drizzle the raspberry blossom honey on top of the cheese. Garnish with the minced rosemary, and serve with warmed or toasted baguette slices. What if you're not a garlic lover? Then don't use garlic. Crisped ginger or carrot chips are every bit as delicious. Or perhaps a date-bacon compote with touch of coriander. Whatever works for you.

Eat what you love, The Fine Cheese Department.