Monthly Message in Bottle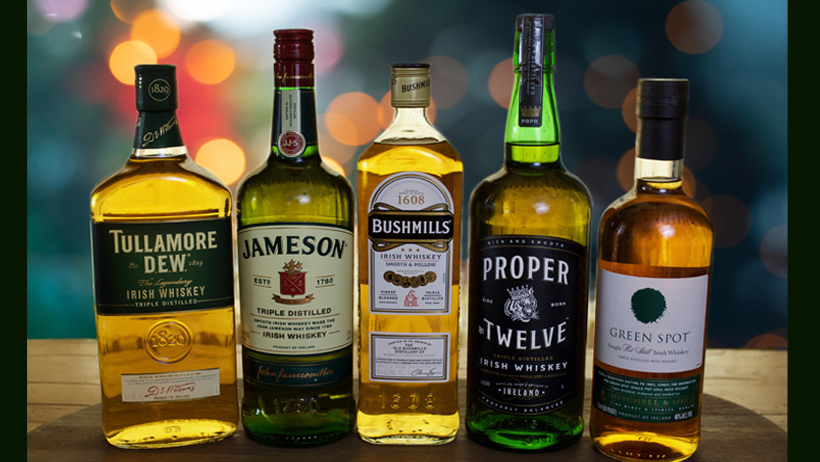 Greetings from all of us at Bottles by Sickles!
It's March and we have spring fever and an overwhelming excitement for St. Patrick's Day!
We have all the cocktails and craft beersto help you get into the spirit!
Stop by to stock up on bottles to enjoy during the local parades or for your festive get-togethers!
If you're here for the wine, scroll down to the bottom to see what's good!
When you're ready to
put on your Whiskey Glasses
Proper No. 12 Irish Whiskey | $31.99
Dublin, Ireland
An ultra smooth blend from Ireland.
This triple-distilled Irish whiskey is a blend of golden grain and single malt with hints of vanilla, honey and toasted wood for a rich complexity.
Founded by Mixed Martial Arts Champion Conor McGregor, the name refers to the area where McGregor hails, Dublin 12.
Green Spot Irish Whiskey | $72.99
Cork, Ireland
A Single Pot Still Irish Whiskey comprising of pot still whiskeys aged between 7 & 10 years. The whiskey has matured in a combination of new bourbon and refill bourbon casks as well as sherry casks. Expect fresh aromatic oils and spices with orchard fruits, barley and toasted wood for a full spicy body. Enjoy a hint of cloves along with the fruity sweetness of green apples, rounded off with toasted oak.
Bushmills Whiskey | $37.99
Bushmills, County Antrim, Northern Ireland
With a recipe that dates back before Prohibition, there is no better whiskey for making a classic, pre-Prohibition cocktail than Bushmills Original. Combining pure single malt whiskey and a lighter grain whiskey, you'll notice its rich, smooth warming taste almost instantly, just as generations have done before.
When you're ready
to get into some Mixology
The Greeny Tini
She drank an itsy, bitsy teeny weeny yet delicious Greeny Tini!
Celebrate St. Patrick's Day with this elegant yet festive green martini. It's made with Chartreuse, Tanqueray London Dry Gin, and a splash of Orange Crema Liqueur from Tattersall.
Classic Irish Coffee
Our version of this classic features Booskerdoo's After Dark Coffee and is joyfully mixed with Bailey's, the Irish Whiskey of your choice, and topped off with whipped cream and milk chocolate shavings.
The Boilermaker
We made our version with Tom's River Brewing's Sweet Nothin' Honey Cream Ale!
Enjoy it with a shot of Tullamore Dew's smooth Irish Whiskey and BOOM…
you've got yourself a Boilermaker.
LOOK OUT FOR THE FULL RECIPES IN-STORE
Toms River Brewing
St. John's Irish Red Ale | $10.99Irish Red Ale | 4.9% | Toms River,NJLight-medium bodied with a toasted toffee aroma, finishes slightly sweet with caramel flavors.
Irish Eye's | $15.99 Session IPA | 5.1% | Toms River, NJA New England Session IPA with an abundance of Citra, Galaxy and Centennial – results in a brew bursting with citrus but refreshingly bright and clean.

Dry Irish Stout|$12.99 Hibernian Dry Irish Stout | 4.5% | Tom's River,NJA traditional light bodied Dry-Irish Stout, this is a malty beer with dark roasted coffee notes. Slight bitterness is present from the East Kent Golding hops and our house yeast is used to accentuate the roast characters of a stout.⁠
When you're just here for the
Spring Wine Suggestions
Green Eyes Grüner Veltliner | $13.99
2018 | Niederosterreich, Austria | 100% Grüner Veltliner
This wine is made from a selection of vineyards within Lower Austria: Kremstal and Rohrendorf, on the east side of the Danube. This wine offers aromas of green pear, baking spice and caramel. With its crisp and fruity palate of caramel apple rice cakes and acidic lime notes that tingle the back of your jaw, it is well-balanced with great acidity. Green Eyes is a perfect wine to welcome spring as it pairs with spring salads, new baby asparagus, fish, white meats and mildly spicy foods.
San Salvatore Vetere Paestum Rosato IGP | $19.99
2018
| Salerno, Campania, IT | 100% Aglianico
This fabulous Italian Rosato r
osé
is made from organically grown Aglianico grapes and has red berry and citrus notes. Crisp and bright, it's an ideal match to seafood and spicy dishes.
The Wine Advocate – 90 pts
La Cana|$19.99
2018 | Rías Baixas-Val do Salnés,Spain
| 100% Albariño
This lively bright yellow white offers a beautiful nose with hints of grapefruit, lime and floral notes. There are sharply focused scents of lime zest, green apple, jasmine, tarragon and ginger. Dry and taut on the palate, it offers vibrant citrus, grapefruit, apricot, pineapple, lemon meringue and orchard fruit flavors with a hint of clove and smoky minerals. The floral notes are strong on the finish, which expresses excellent clarity and firm minerality.
James Suckling Wine Review – 92 pts
Domaine Vionnet Beaujolais-Villages|$19.99
2016 | Beaujolais, FR | 100% Gamay
Ex-baker-turned-winemaker Karim is a rising star of Beaujolais.
His unfiltered and low sulfite Beaujolais-Villages, with its ample red fruit flavors and light, tickling tannins, epitomize the French word for silky 'gulpability' – gouleyant. A classic and savory Beaujolais, it pairs well with duck and gamey meats.
BOTTLES BY SICKLES
MONDAY – SATURDAY 12 PM – 8 PM
SUNDAY 12 PM – 5 PM
200 MONMOUTH ST. RED BANK, NJ 07701
732.852.5353