Asbury Park Distillery: Asbury Park's First and Only Distillery Since Prohibition!
We recently interviewed Asbury Park Distillery, Asbury Park's first and only distillery since prohibition, producing the highest quality hand-crafted spirits. Their production facility and tasting room are located in the heart of Asbury Park's downtown business district. They distill Vodka, Gin, and Bourbon Whiskey! We talked to the whole group about their distillery and more!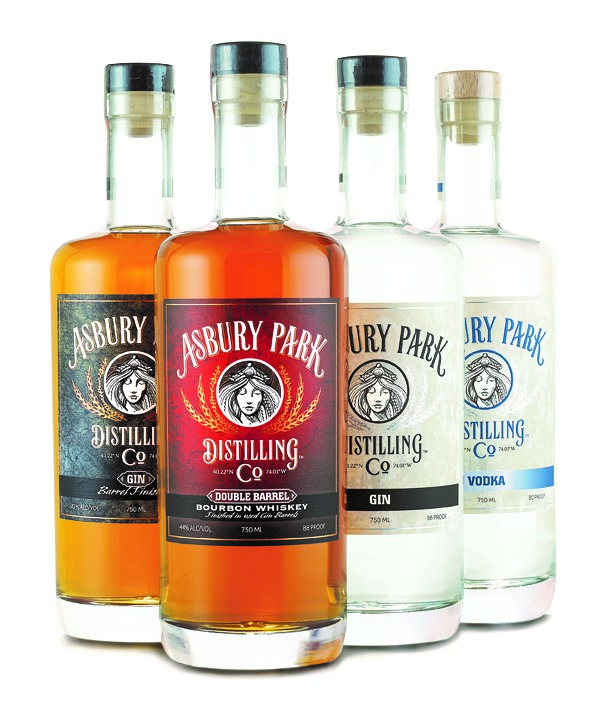 What is the process of opening the first distillery in Asbury Park since prohibition; and inspiration from those distilleries in AP before prohibition?
Since we're in a downtown redevelopment zone, we had to get the redevelopment plan amended to allow for a craft distillery. In addition, we had to build out the entire space to accommodate both our manufacturing area and the tasting room. We still ordered from Carl Stills in Germany, one of the oldest and most respected still manufacturers in the world. It was hand-made to our specs. Licensing, both federal and state, also took a good deal of time. Altogether, it took about 3 years to open up. The design of our tasting room, in particular, gives homage to the classic design of prohibition-era whiskey rooms and speakeasies.
How do you think as a distillery you have upheld the creative and communal spirit of Asbury Park?
It was our intent from the start that the creativity of our brand and spirits match the spirit of creativity found in Asbury Park. We had our mermaid logo designed by a local artist – Porkchop. A close inspection of the logo reveals different elements found around Asbury Park. The medallion around her head is borrowed from The Carousel, one of Asbury Park's most iconic buildings. In the middle of her crown is a seashell, borrowed from Convention Hall. Tentacles in her hair give homage to Asbury Park as the city by the sea. Lastly, you'll note that her eyes are closed, representing our acceptance of all people in the communal spirit of Asbury Park.
And to follow up, how does it feel to carry "Asbury Park" in your name?
Immense pride.
What was your flagship product? And how did you decide on that spirit?
The first product we launched was our Asbury Park Gin which we love. It is a fun product to make and allows us to be creative and to play around with the botanicals to paint a picture with the flavors it imparts. Although we began producing our small-batch bourbon around the same time that we began producing our gin, the small-batch bourbon takes 2+ years to mature and age in the oak barrels. Now that the barrels are coming of age, we have begun to release the small-batch bourbon to the public. It has been extremely well received.
Do you lean more towards classic or modern cocktails?
We tend to mostly modern cocktails because it really allows us to be free and creative in the process. Really work as a bar staff to collaborate on new and different ideas. That being said, we do have a handful of "our" takes on classics that always adorn our menu. For example, our Perfect Gin and Tonic may seem like a simple classic drink, but we make our own in-house tonic and only the most perfectly carbonated soda which makes it, well perfect! It's been on the menu since day one and remains a customer favorite. As for a recipe. Another constant on our menu is the Jon Bouchon. The recipe is as follows:
Infused a 750 ml bottle of our Double Barrel Bourbon with 4 bags of Rooibos tea for about 2 hours.
2 oz Infused Bourbon
.5 oz of APD Barrel Finished Gin
.75 oz Fresh Lemon Juice
.25 oz Simple Syrup
Combine in shaker and shake vigorously.
Serve over a large cube in a rock glass with a citrus garnish of your liking!
Your cocktail program allows you to serve drinks in the house. How did you come up with this solution? And what is the best cocktail match to your Spirit?
Since we are only allowed to serve spirits that we make in-house, we had to become very creative with our drinks. In the spirit of creativity that is Asbury Park, we make all our syrups and tinctures in-house. The No. 67 (Gin, Coconut, Chai, Passionfruit) Breakfast (Vodka, Cold Brew, Horchata) and The Jon Bouchon (Bourbon, Rooibos, Lemon) have all been mainstays on our menu for quite some time. It would be difficult to say which cocktail is best to match our spirits. However, we tend to look at our cocktails as a sum of all of their parts. Since we have such great products to work with, it affords us the ability to pair our spirits in collaboration with so many different flavors to create our unique and distinct cocktails.
Are there any other types of Spirits you're looking to produce in the future?
We have both an Aquavit and an Espresso Limoncello that we'll be releasing within the next few months. We've been working on both for quite a while and are very excited to add them both to our lineup of spirits.
Who is your favorite local distillery/brewery?
It's so tough to name even just one or two. There are so many great breweries and distilleries in New Jersey making really interesting and creative products.
What's the best spot in Asbury Park, this could be a store, restaurant, or even just a bench?
Another tough question given there is so many fantastic places in Asbury Park. I have to say though that I'm partial to Convention Hall and Asbury Park's boardwalk. The beauty and history of both are unmatched. 

Read about the great team at Asbury Park Distillery on this page! And go visit them in Asbury Park!