Go Au Natural with these beautiful Natural Wines!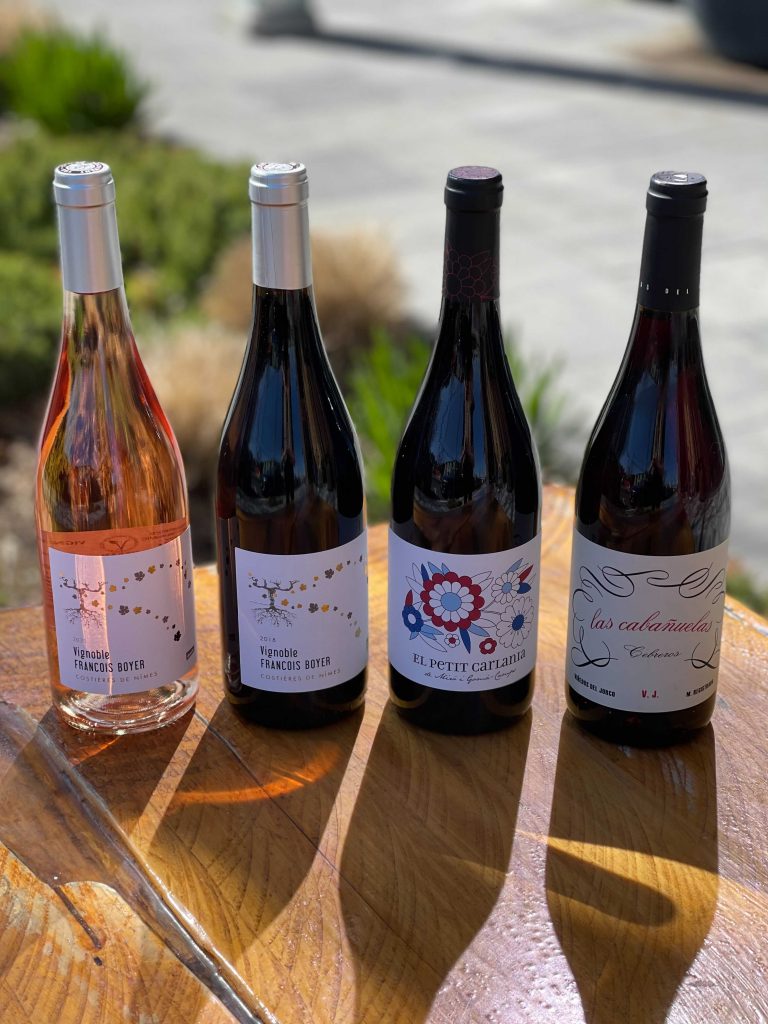 Natural wine is both an ancient old trend and a winemaker's movement! There is not one definition of natural wine, although the effort is to present wine in it's purest form -made from unadulterated fermented grape juice and nothing else. It can be farmed organically in a mission to produce "living wine" without pesticides or additives. Here are the Natural Bottles you can purchase right now at Bottles by Sickles.
Francois Boyer, Costières de Nîmes Rose
2018 | Rhône Valley, Fr | 60% Syrah, 30% Grenache, 10% Cinsault
Clear pale pink in color with a fine nose of peach, raspberries, red currants and pomelo. Lively and full on the palate with aromas of fresh red berries. Refreshing and expressive with a clean finish.
Natural. Organic.
$16.99
Viñedos del Jorco, Cebreros Las Cabañuelas
2018 | Madrid, Sp | 100% Garnacha
This bottling fis composed entirely from bushtrained Garnacha vines planted on granite in the Sierra de Gredos Mountains. The wine offers up a classic nose of raspberries, blood orange, pepper, garrigue, stony soil tones and a topnote of wild fennel. On the palate, the wine is bright, full-bodied and transparent in personality, with a good core of fruit, tangy acids, moderate tannins and a long, complex and well-balanced finish. This is gently chewy today, but quite approachable. It will be even better with a few years' worth of bottle age. 2020-2035+.
Natural. Organic. Biodynamic..
$18.99
Carlania Celler, Conca de Barberà Trepat El Petit
2018 | Catalonia, Spain | 100% Trepat
This is a gorgeously aromatic and vibrant tinto joven with initial aromas that are a combination of tart red fruit, black pepper spice and citrus blossom. Pure and lithe on the palate, it offers the same mouth-coating flavors as on the nose.Drying tannins in a relatively light body and juicy acidity make for the perfect summer red wine. There is a touch of natural wine funk in the background that adds interest. The finish is medium in length. 12% abv. Enjoy it with Mediterranean fare.
Natural. Organic. Biodynamic.
$23.99
Francois Boyer, Costières de Nîmes Rouge
2018 | Rhône Valley, Fr | 70% Syrah, 20% Grenache, 10% Marselan
A pleasant nose of blackcurrant, blackberry and liquorice. On the palate the wine has soft tannins with aromas of red fruits, liquorice, dried violets and spice.
Natural. Organic.
$16.99
Il Censo, Njuro Terre Siciliane Rosso
2015 | Sicily, IT | 100% Perricone
The red from Il Censo is made entirely from the Perricone vine, known in the local dialect as Njuro Cani, or 'black dog.' An elegant wine withgentle tannins, slightly bitter flavors of dark cherries, blackberries and dark chocolate, with overlays of vanilla and spice. As with so many Italian wines, it works best with legumes, Italian cheeses and even spicy food from Sicily and Mediterranean.
Natural. Organic, Biodynamic
$35.99