Incredible Discussion on Vodka and Bourbon with Tim Koether of Claremont Distillery
We reached out to Claremont for an interview, and we were lucky enough to reach Tim Koether! He is the founder, CEO, head of the distillery, and delivery driver of  Award-winning Claremont Distilled Spirits, Inc, located in Fairfield, New Jersey. The Distillery was founded in May 2014.  They make world-class spirits that are produced in the "Garden State" using locally sourced ingredients.  
How did you first get into Distilling and making handcrafted spirits?
I was a distilled spirits hobbyist for many years visiting numerous distilleries in the US, Scotland, and Ireland.  Additionally, I am fascinated with the history of distillation and spirits and the science involved.  In 2014, I was looking to start a business after working in financial services for over twenty years.  Serendipitously, around that time, I befriended an individual that owned a highly successful craft distillery in Idaho.  The more I learned about the business, the more excited I got that I could have a business that I had a true passion for while also being economically viable.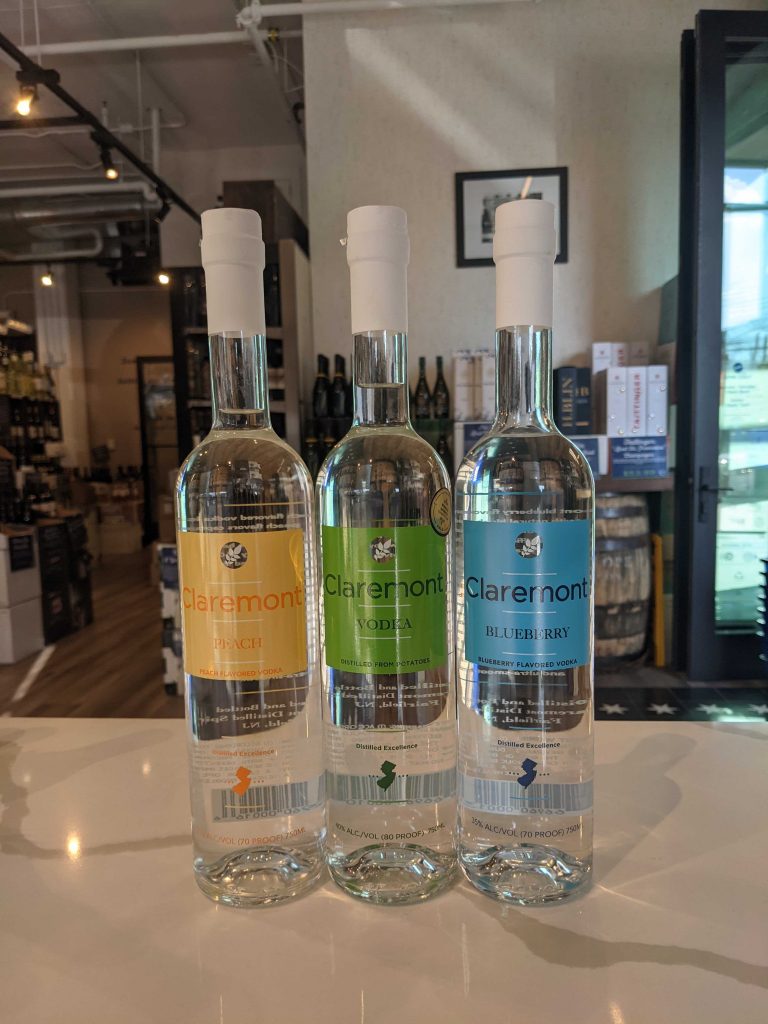 Why did you start with Vodka?
All craft distilleries face the dilemma of generating cash flow early on particularly if they are looking to make their own whiskey. We never considered purchasing mature whiskey as we wanted to stay true to what we believe craft distilling is – making products ourselves from grain to bottle. Our plan had always been to produce vodka from day one as this would allow us to generate immediate cash flow. However, producing vodka wasn't just about cash flow generation. We wanted to make a premium vodka that was ideally suited to be served on the rocks or used in Martinis. That is why we choose to produce a potato base for our vodka believing that it offers the best taste and smoothness.
How did you go about finding the distillery, machinery, and overall process?
Finding a location was one of our biggest challenges. Claremont started when craft distilling was in its infancy in New Jersey. At the time, many municipalities expressed concern about having a distillery in their community. The other challenge we had was we needed a location that had thirty-five-foot ceilings to accommodate our vodka still. We had to redesign the still as the facility with the highest ceilings we could find was thirty feet.
When we started, finding machinery was a challenge particularly stills. All the major still producers had a significant waiting list because of the craft distilling boom. We found a manufacturer that was willing to custom make our vodka still, but we did have to wait sometime. We were fortunate enough that we knew of a distillery that had a new pot still they were looking to sell which we acquired.
As far as the overall process, it has been a lot of trial and error and long hours. We have dumped more than our fair share of the product since we began. However, after seven years in the business, we have figured out what works and what doesn't. At least most of the time.
How do you use locally sourced ingredients to your advantage? And did they influence you to create your flavored vodkas?
Our intent has always been to showcase why New Jersey is the "Garden State." We have always been a strong proponent of sourcing locally and believe that the consumer appreciates supporting local business. Many people are surprised to not only hear that distilled spirits are made in New Jersey but made using New Jersey grown ingredients. Many of these consumers will try the product because it is local. But the product must be good for them to become repeat customers.
 Using local ingredients heavily influenced us in the creation of our flavored vodkas.  We choose to make Blueberry and Peach vodka as New Jersey is amongst the largest producers of both fruits.  Our flavored vodkas are all-natural using distilled flavor and essence from New Jersey Peaches and Blueberries.  Any additional flavored vodka we make would have to come from New Jersey ingredients.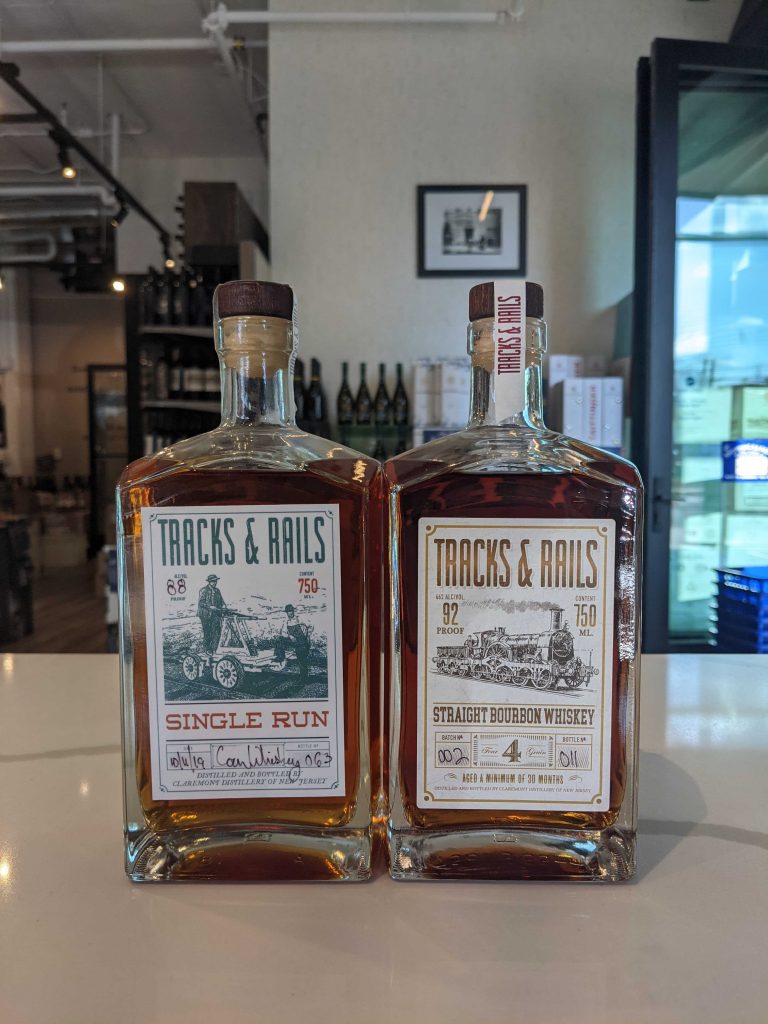 What's the story behind the name Tracks & Rails for your five-grain bourbon, and the process of finding the flavor you wanted?
All our brand names have an association with New Jersey. With Tracks & Rails, we were looking to play off New Jersey's long train history. The New Jersey Railroad Company was the first chartered US railway in 1815 some ten years before the Baltimore Ohio line. However, the company didn't get off the ground until 1833 as the Camden & Amboy. Additionally, the first steam-powered engine to pull a train was built in Hoboken in 1824. New Jersey also has amongst the most train station of any state in the nation.
In making Tracks & Rails five-grain we were looking to make a unique bourbon. There are many three and even four-grain bourbons available but very few five-grain. Through experimentation with several mash bills, we found that using a little bit of oat softened the taste on the pallet and allows the finish to linger. Many consumers are shocked that it's an 88-proof bourbon because of its mellowness. It is our best-selling bourbon.
How did your signature moonshine come into the equation of it all?
We wanted to make whiskey as soon as we opened it. Since we weren't looking to purchase aged spirit a "moonshine" was the only whiskey we could offer to the market at the time. We wanted to make a quality spirit thus our moonshine is based on a traditional recipe consisting of corn and malted barley. The result is a product that is quite smooth and flavorful. It can be enjoyed on the rocks or makes a great base for a variety of fixed drinks.
Which cocktails work best with your line of spirits?
Our vodka is best served on the rocks with a small wedge of lime or as a classic martini. Being potato-based gives the spirit a smooth and creamy mouthfeel giving the cocktail unique characteristics and great flavors. Our Blueberry Vodka goes great with lemonade, and the Peach Vodka goes perfectly with unsweetened iced tea. Our varieties of bourbons are best served straight. However, we have a bestselling cocktail named Trackside that mixes the Five Grain Tracks & Rails Bourbon with pink grapefruit juice and a splash of simple syrup, a great drink year-round!
Are there any other types of Spirits you're looking to produce in the future?
Absolutely.  We will continue to do a number of single run whiskeys going forward.  We are constantly working on new formulations using different yeast varietals.  We have started a club "The Alchemist Society" where each quarter we will be producing a new whiskey using unique mash bills.  The first whiskey we are producing is an "Irish Type" whiskey based on a historic recipe. Aside from whiskey, we are looking into making an agave spirit. In addition, we anticipate producing a single-serve yet to be disclosed cocktail this spring.