Jersey Barnfire Hot Sauce: Bringing the Local Heat! (Interview)
Jersey Barnfire cofounders Austin D'Almeida and John Sauchelli have an amazing line of local spicy and flavorful hot sauces. Jersey Barnfire Hot Sauce makes their products using the freshest produce in the Garden State to provide you with the highest quality hot sauces around. With all kinds of diverse flavors from Black Garlic to Strawberry Scorpion. We interviewed Austin and John to learn more about their hot sauces and the importance of eating and supporting local! 
What was the first hot sauce you made before or during the creation of Jersey Barnfire?
The Original. But it was the Black Garlic that gave us the edge we needed to blow up the market. We were the only sauce company to have that as a flavor. First of its kind. That's what really helped launch the company.
There have been others since, but we were the first:)
What drives you to make your new flavors? Do you sit down and work it out or wait till inspiration strikes?
A little bit of both. Mostly inspiration strikes!
Also, when we wish for a flavor that we feel has a place and/or can't find on the market, we create it. Or if we come across a new ingredient/flavor profile that we feel belongs in a sauce, we make it.
I wanted to ask about the stories behind some of your Hot Sauces. Strawberry Scorpion sounds like something that shouldn't work but it does. How did you decide on the pepper and fruit?
Honestly, initially the name just sounded cool 😉
And with the proper tweaking, it ended up being one of our best selling fruit sauces. As good on dessert as it is on savory foods!
Most Hot Sauces don't have a hot sauce for Italian Dishes, but you have Murder by Primo. How did that come along, and what is your favorite dish to put it on?
This was a special release for the 2016 NYC Hot Sauce Expo. We had only planned to sell at the show and feature in a hot meatball eating competition, but people ended up enjoying it so much, we decided to keep bottling it!
Love to add it to anything Italian with marinara as a boost.
Meatballs, pasta dishes, eggplant/chicken Parmesan and Sausage & peppers are some excellent examples.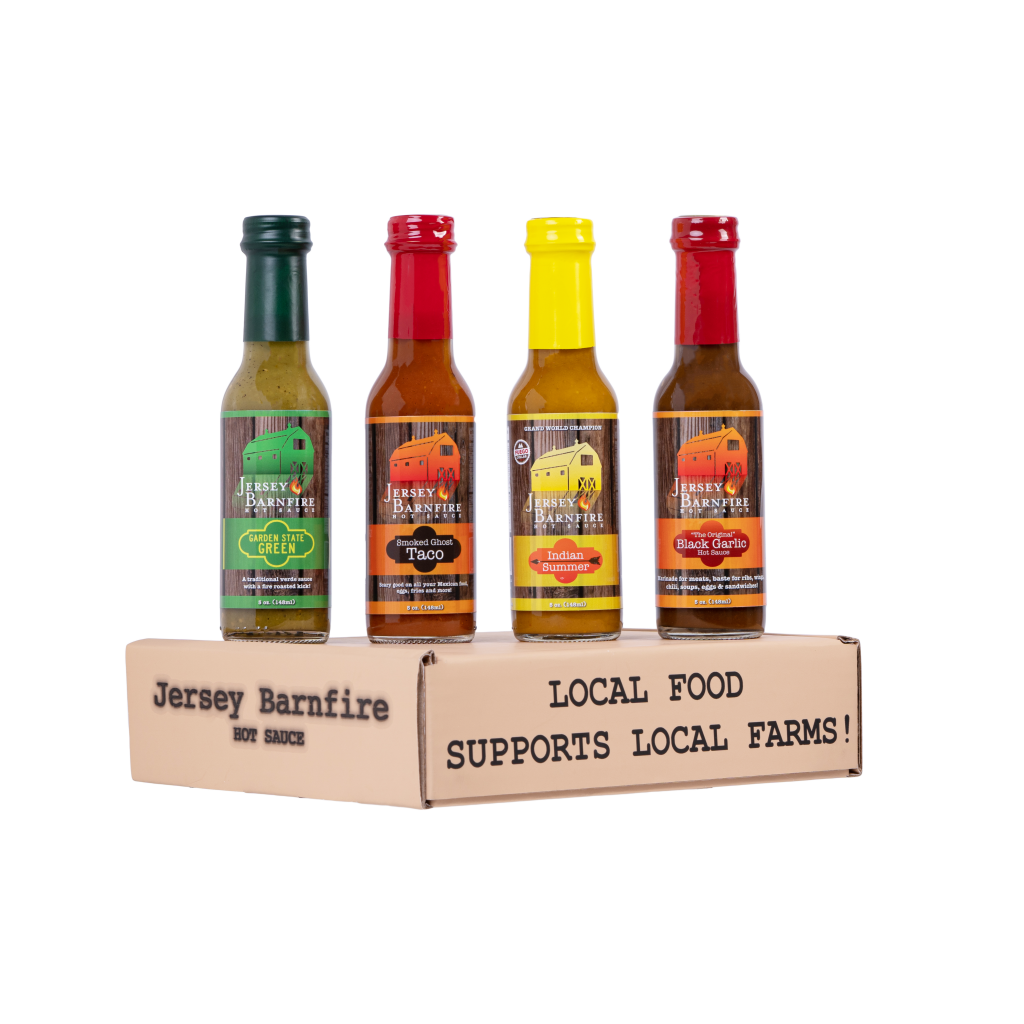 Why black garlic? What makes it different from regular garlic?
Black garlic starts as regular white garlic that ages in a very specific time, temperature, humidity, and in some cases, pressurized environment. Once this transformation is complete, it has turned deep black color, becomes soft almost like a gummy bear, and takes on a very complex umami.
You have one product that's not a hot sauce, can you talk about the 7-pot primo salt?
Came from a surplus of peppers. From farming our own land, or what we pick up from neighboring farms at harvest times, we either make pepper mash, freeze, or dehydrate to preserve if we weren't making sauce right away.
Austin had the idea of infusing some of our hottest peppers into pink Himalayan sea salt as another way to use them. People loved it.
Can you tell us about any new sauces you're working on now? Top secret info haha;)
What is your current favorite Jersey Barnfire sauce and a food pairing to go with it?
My personal Favorite (John) is the Smoked Ghost Taco. I use it on so many things! Soups, eggs, chili, Mac & Cheese, and anything Mexican or Southwest style. These are my favorite foods to eat!
My personal favorite (Austin) is still our Original Black Garlic, it goes on my breakfast, lunch and dinner. Our son loves it as well so it's required on the table for all meals.
Besides Jersey Barnfire, what are some other hot sauces people should know about?
Since our conception, we've made many great friends in the industry who also make fantastic products as well. Hell's Kitchen, Whitehouse Station, Volcanic Peppers, Born to Hula. These are all fine examples of sauce companies to also try. We are all diverse in our own unique ways.
Can you speak about the importance of sourcing and supporting local ingredients and local business? Being a local small business ourselves, we implement the use of many of the farms, vendors, and other small artisans in our area, and throughout the tri-state area to keep in close proximity to where our ingredients originate. With so many items coming in from who knows where we believe it's important to keep things local! Knowing where your food comes from and keeping the money spent in our local economy means everything. Especially right now.