May Cheese Lover's Letter!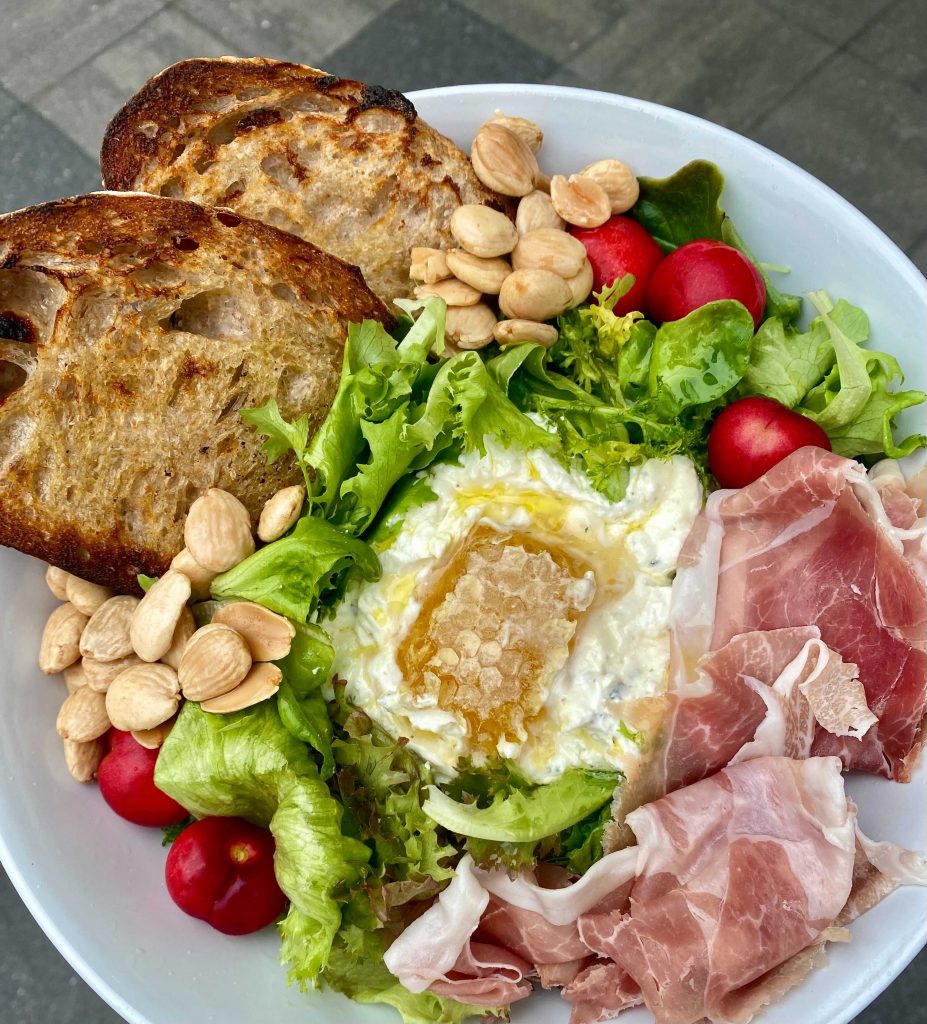 For those of you who need some inspiration when it comes to treating yourself, we've got you covered. Enjoy Midnight Moon Gouda 30% OFF all month, get raw varietal honey for your teas and your cheese (pairing suggestions below), and enjoy our Whipped Ricotta Brunch Bowl: a charcuterie board on a fresh bed of lettuce if you will. Trust us when we say it's delicious!
The Wheel Deal: Midnight Moon
Midnight Moon is an enormously popular aged gouda. It's produced in Holland, although its very much the brainchild of famed American artisans Cypress Grove. Midnight Moon's texture is dense and solid and verges on granular. Its flavor is nutty and sweet with noticeable caramel and beurre noisette tones. Pairs nicely with Zinfandel and Syrah.
Netherlands/United States. Pasteurized Goat Milk.
$29.99lb
30% OFF all May
Spotlight Item: Bee Raw Varietal Honey
Whether it be for our English breakfast tea in the morning or to sweeten our Sleepytime tea at night, we all are familiar with the classic honey bear squeeze bottle used in every household growing up. Beyond the sticky sweet delight of wildflower honey, some of us may be unaware of the countless single varietals of raw honey and the distinct flavor profiles they have to offer.
Zeke Freeman, owner of Bee Raw Honey, has dedicated his life to the culinary world and more specifically the agriculture that surrounds it. He now focuses solely on harvesting honey in the US from bees that have feasted on one single botanical variety. Each varietal not only differs texturally and in color, but the flavors are completely unique from one to the next.
Experiment with Bee Raw varietal honeys in cocktails, teas, glazes and vinaigrettes, and most importantly, an array of cheeses.
Sickles Market currently carries the following varieties:
**Raw North Carolina Sourwood Honey
Taste: rich, buttery, maple finish
Pair with Camembert, Harbison, Brie Tremblaye
**Raw Colorado Sweet Yellow Clover Honey
Taste: sweet, warm, cinnamon, nutmeg
Pair with Taleggio, Epoisses, Sawtooth
**Raw Oregon Meadowfoam Honey
Taste: cotton candy, caramelized custard, vanilla
Pair with Gruyere, Challerhocker, Comte
Reg. $15.99 each
Beekeeping has been a declining industry in the US since the 1950s. Problems that have unfortunately added to this would be mites and the use of pesticides that have been destroying bee colonies over the centuries and mass-produced cheaper honey that have crushed small artisanal producers. Sickles Market is proud to say that we carry Bee Raw, as it is here to change the tide.
Can you imagine a world without strawberries, almonds, and broccoli? Plant flowers and donate to Save the Bees!
*Worried about your raw honey crystallizing? Don't! It's a gift from nature. Stop by Sickles Market and ask our cheesemongers why.
Monthly Blend: Whipped Ricotta Brunch Bowl
Enjoy your brunch with Sickles Market by making this mouthwatering Whipped Ricotta Bowl featuring our favorite products from our cheese department.
Here's What You'll Need:
1 cup Sickles Own Whipped Ricotta with Honeycomb
¼ cup Marcona Almonds
2 handfuls of Three Forks Local Greens Spicy Blend
1 pack Creminelli Prosciutto, sliced
½ cup Fresh Bing Cherries
2 slices sourdough bread
1 oz Sickles Own Lemon Poppyseed Dressing
2 oz Extra Virgin Olive Oil
Here's What You'll Do:
In a medium sized bowl, toss the spicy blend greens with Sickles Own Lemon Poppyseed dressing. Place the greens aside. Set your grill on medium high heat. Brush both sides of each sourdough slice with extra virgin olive oil. Once nice and hot, place the slices of sourdough on the grill, grilling 1-2 minutes per side. Once browned and even slightly charred, take the sourdough off the grill and set aside.
Let's plate!
Grab a shallow bowl. Place Sickles Own Whipped Ricotta with Honeycomb in the center of the bowl. Surround the whipped ricotta with the dressed spicy blend greens. On one side of the whipped ricotta, carefully set slices of Creminelli prosciutto over the greens. On the opposite side, place the grilled sourdough bread. Distribute the Bing cherries evenly amongst the greens. Lastly, place our most favorite salty and sweet almonds, the Marcona almonds, in between the whipped ricotta and greens. Enjoy this decadent brunch meal with family and friends served with glasses of Mimosa.
Eat what you love,
The Sickles Cheesemongers