Pick Your Peppers
Homegrown peppers bring so much joy (and pain) to our late summer salads and dishes.  And they are gift that can give though out the cold winter by pickling or making a hot sauce with them.  It is not secret we love hot sauces. If you want to get started with your own pepper field the Sickles Garden Center makes it easy.  Going fast are our seedlings that are ready to go into the ground.  Whether you like it really hot, mild and sweet, or somewhere in the middle, our team can lead you the ideal pepper variety.  
A small sample of what we have in stock. . .
Carolina Reaper – The hottest pepper in the world!  This is like growing a firecracker.  Maybe it is ornamental for you to brag, or maybe you want to try your luck.  Have a glass of milk ready when eating its fruit.
Jamaican Scotch Bonnet – Less heat intense than the Reaper, but still very hot. Small and rotund, easy to portion out.  This pepper will carry a little hint of sweetness and tropical fruit, making it great for homemade hot sauces experiments.
Cayenne Long Thin – A very thin hot pepper, whose heat is that "red hot" flavor we recognize from the hotter hot sauces we like.  Makes for a great pepper—fresh or dried—to add last into a cooked dish to heat up.  The plant will be one of the earliest to ripen in as little as one month from planting.
Tabasco – More hot than the hot sauce that shares its name, and more flavorful, too.  It is one fo the most unique and earthy of the peppers, this is an excellent all around pepper for seasoning and pickling.  The Tabasco is a slower maturing pepper—you will know when the fruit is ripe when it takes on the deep red color.
Anaheim – Approximately 50 days after planting your mild Anaheim peppers will be fully ripened red, but you can use the green fruits, too.  This is a great pepper if you like the vegetal flavor but not the burn. (Very few left in stock! Call to check if it's in stock before seeking this one out)
A few more that are also in stock – Hot Hungarian Wax, Heriloom Hot Banana Pepper, Heriloom Habanero Orange and red, Roulette Sweet Habanero Pepper.
Peppers are nightshades, and like tomatoes, will want full sun and heat.  Plant 2 feet apart, deep in well-drained soil, and when watering make sure not so splash to avoid soil borne disease. On average a pepper plant should get 1-1.5 inches of water per week, and it is good if they dry out before waterings. Pepper plants will continue to send fruit so long as the peppers on the plant already do not fully ripen.  You can harvest when green and not fully-ripened, and saving some for the late season of September, or get two of each plant to compare.  Our Garden Center team is ready to take your questions.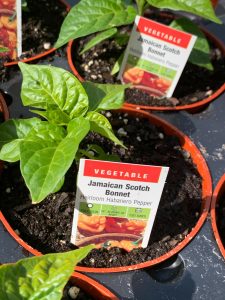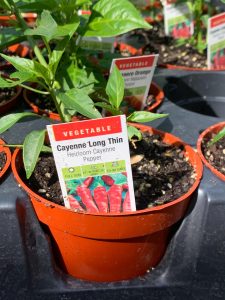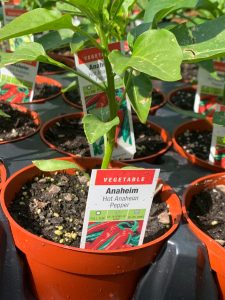 Previous
Next