Run for the Roses
Our Garden Center is thick with the intoxicating fragrance of roses in bloom. June is National Rose Month, reminding us this is the perfect time to start you own rose garden. Come and find the rambling roses, shrubs, and climbers of your rose garden dream at Sickles. We have rewarding options for those without a green thumb, too. True Bloom is a name you will here more and more about in the years to come because these new hybrids push out beautiful bloom after bloom without spraying. Sickles is one of the first Garden Centers in the world to sell these. No matter your level, our Garden Center team is here through the long summer days, 9-6 everyday to help you. To start, we asked Bob Sickles for some tips on beginning your rose garden.
Roses need sun–an average of 7 hours of sunlight daily is ideal– but cannot take extreme heat. Think about an area in front of a south facing wall, if possible, so as to maximize sun and minimize the cold northern winds. Transplant on a cloudy day, and dig deep and wide (2 feet x 2 feet) so the roots will have space to grow in a well drained area. Space out 3 feet apart if planting multiple bushes.
Feeding the rose bush is critical to growing an abundance of flowers. Miracle-Gro is a good all purpose liquid fertilizer that is easy to apply on a schedule of every 2-3 weeks. A once-a-season granular fertilizer to use is Espoma Rose Tone, and a slow release option is Osmocote. Keeping up with a regular fertilize program is critical. Roses will want plenty a good balance of Nitrogen, and plenty of Phosphorus and Potassium to grow strong and resilient, with other nutrients mixed in. Talk with our Garden Center to discuss what kind fertilizer best suits your schedule and soil.
Irrigate regularly, as the plant should get 1 inch of water per week. Moisture level should be consistent throughout the season. Be careful not to get the leaves wet so as to avoid disease. Yes, everything and everyone loves a rose! Remove any black spotted leaves carefully and quickly to avoid spreading. You will want to spray regularly, like Fung-onil or an all organic copper spray. Don't forget about our antlered nibblers, the Deer. How can they resist the scent and lure of eating your rose bush? Use Deer Out once a month to keep them away.
Pruning can be done, minimally, through the season for maintenance and deadheading, to keep your bush healthy and flowering. Deadheading keeps the plants energy directed towards flowering, and not producing seed, so cut right as the bud is opening. Best in the morning or evening, when the plant is hydrated and not stressed from the warmest part of the day, too. It is important to have bypass pruning shears with both blades curved. We carry a deluxe pruning shear that will last a lifetime, the Swiss made Felco. These will not break on you, give you clean cuts, and many blooms later you can easily replace the blades.
After winter, perform annual pruning in April when the plant is awakening from dormancy. Cut back up to half of the previous years growth. Better to remove cross-growing canes, as growth should be focused on upward shoots radiating out from an open center, and snip the stems thinner than a pencil.
These are some tips we hope get you excited and comfortable to begin a rewarding new hobby. Our Garden Center team is here all year long for advice and tips–helping you take the thorns out of blooming roses.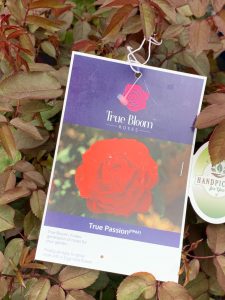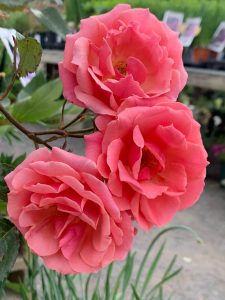 Previous
Next