Seed + Mill Banana Bread Recipe
Just in time for the endless summer baking season we are introducing Seed + Mill Tahini to our shelves. It is made from from ground organic sesame seeds, which have long been a staple of mediterranean cuisine. Quite cool, then, that Seed + Mill is a women owned and operated business in NYC. Started by three friends, they sources their organic sesame seeds whole from Ethiopia, and roast and mill on site in Chelsea. The Tahini is sold in jars made of recycled plastic too. We love that.
If your not familiar with using Tahini, think of it as "sesame butter". It is what makes hummus creamy, and is great as a snacking dip with vegetables and pitas. Pair with lemon for savory flavor, like atop roasted Broccoli. Tahini is also nutritious, packed with Iron, Calcium, and Protein, and is an anti-inflammatory. You can use it to make a silky smoothie too, and it pairs well with bananas. But maybe what's most exciting is to use it to for a new twist on everyone's favorite baking obsession right now, Banana Bread. Our friends at Seed + Mill shared with us their Tahini Banana Bread.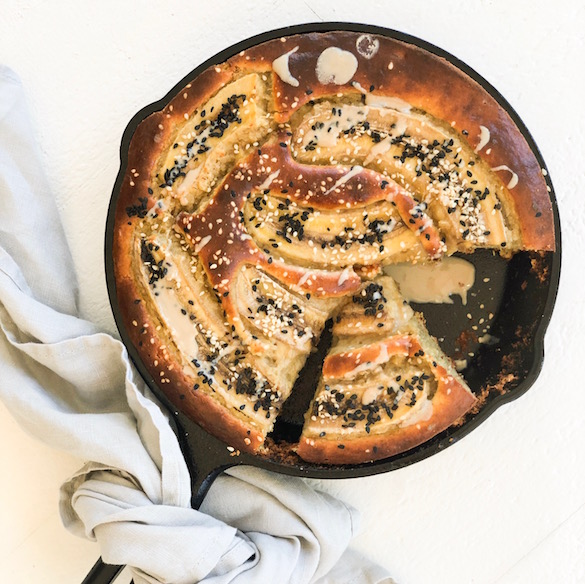 INGREDIENTS
2 ripe mashed bananas (plus extra if you want to decorate the top)
1/2 c Seed + Mill organic tahini (plus extra 1-2 tbs for drizzling)
3 eggs
3 tbs honey or date syrup
1.5 c almond flour (finely ground)
2 tsp baking powder
1 tsp vanilla
1/2 tsp sea salt
handful of black and white sesame seeds for decoration
oil or spray for greasing the skillet
STEPS
1. Pre-heat oven to 350F.
2. Whisk together into a large bowl the mashed banana, tahini, eggs, honey/date syrup and vanilla.
3. Add almond flour, baking powder and sea salt and whisk until combined.
4. Spray the skillet with oil to prevent it sticking. Spread the mixture into the skillet and decorate the top with sliced bananas (if using) and mixed sesame seeds.
5. Bake for 25-30 minutes.
6. Drizzle with extra tahini and honey/date syrup (if using) just before serving.

Serves 6. Lasts for up to 3 days if kept in an air tight container.