Top Tomato Plant Tips
Folks, this is it. This is the time to plant your tomato garden. Our long cool spring is warming up, and we have summer salads and tomato sandwiches on our mind. Your garden starts at Sickles, our Garden Center has everything you need to get started.
Tomatoes grow best in warm soil with plenty of air and sun. Plant them facing south, 2-3 feet apart, and deep. The tomato plant sets roots from the stem, so the deeper it is planted the more fruitful your harvest will be. Consider pruning the lower limbs and planting as far deep as that. Fertilizer is always a good bet, and tomatoes particularly benefit from Calcium and Magnesium.
The soil should never be more than slightly wet. You want to reduce soil splatter, which launches disease onto the plant. Mulch is a great way to help curb splatter, or weed barriers. Another tip is continuing to prune the lower leaves through the season, so as no part of the plant is too near soil. Always prune with a clean, sterile tool. While you are at, give a snip to any "sucker"—those little green knobs that grow between stem and branch. This will help conserve the plants energy for making plump red fruits.
Sharing some of our tomato friends looking for a home. To learn more, you can stop by our garden center. We are fully open every day from 9:00 AM – 6:00 PM with on site team members. Do you have any tomato garden tips? We love to hear and share.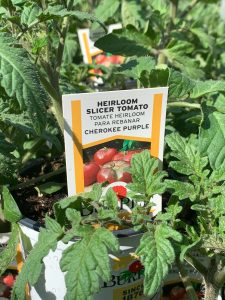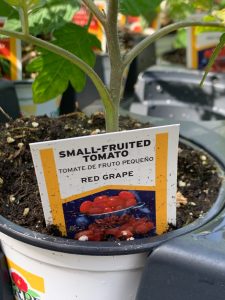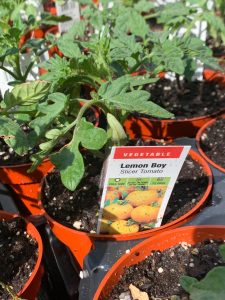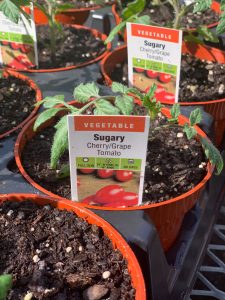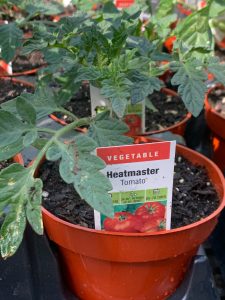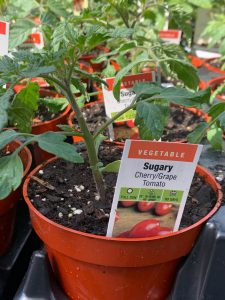 Previous Next