10 Ways to use Sickles Own Whipped Ricotta with Honeycomb
10 Ways to use Sickles Own Whipped Ricotta with Honeycomb – This product was born in the Sickles Red Bank Cheese Department and it has become one of our best sellers. Not only is it delicious but versatile!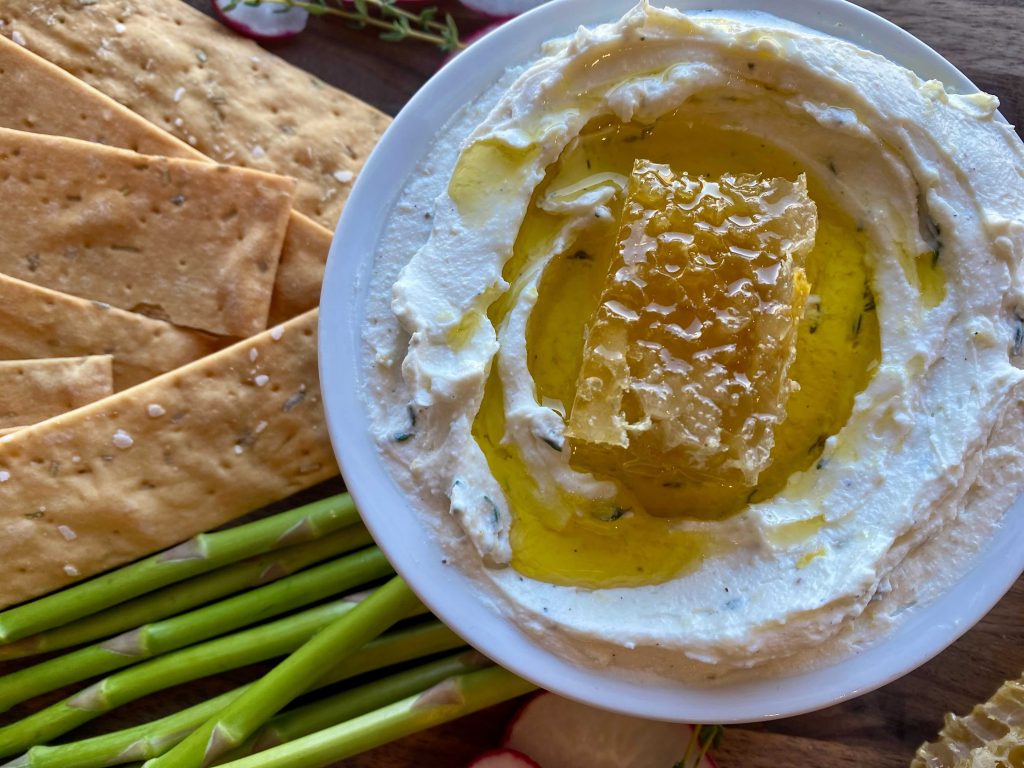 You've had dreams about it- that pillowy ricotta surrounding a golden piece of tender honeycomb. With its fresh picked thyme, lemon zest, and olive oil drizzle, you are salivating just reading this. You can dig in with a spoon, no judgement here- but there are many other delicious ways to enjoy this spread! Its fresh, sweet and salty flavor will compliment fruit, nuts, various crisps, even meat. Read on for our mouthwatering list of ideas:
Crostini with Whipped Ricotta & Prosciutto. Just like it sounds- start with a Sea Salt Firehook Cracker, spread a bit of the ricotta on, and top with a thin-as-air piece of Prosciutto di Parma. Cut into that honeycomb for a sweet topping…
Pizza Bianca with Whipped Ricotta. The sweet honey-infused ricotta is a tasty contrast to a salty white pizza- with mozzarella, fresh chopped rosemary, roasted garlic and of course crushed red pepper!
Whipped Ricotta & Pizzelle Sandwiches. Hear me out. Cheese can be dessert- think mascarpone in tiramisu! Try dipping crisp pizzelles into this ricotta- bonus points if they are homemade! You can also sandwich the ricotta between two of the wafer cookies, with fresh berries. Leave it in the fridge a few hours for a softened texture! Go for cocoa or classic pizzelles.
Ricotta Toast. Cousin to the avocado toast, this snack is simple and so easy to customize. Take bread of your choice, such as sourdough, rye or pumpernickel. Toast it up, spread with ricotta and top with fresh berries, tomato, cherries, nuts or even salami. Top with coarse salt and fresh ground black pepper!
Stuffed Crepes. A stuffed French classic- take this thin classic pancake and stuff with ricotta and berries. Enjoy with fresh brewed espresso or warm tea.
Roasted Beets and Orange. This is a salad or starter if you will- take some chilled tender roasted beets, cut them aesthetically, and add in some orange slices. Spoon ricotta into a bowl with a well in the middle and fill with the beets and orange. Eat alone or spooned over bread, sprinkling with mint and sea salt.
Grilled Stone Fruits, Stuffed with Ricotta. An end-of-summer classic- take stone fruits like peaches or nectarines, cut them in half with the skin intact and remove the pits. Grill on both sides with some olive oil, and then stuff the centers with whipped ricotta! A symphony of flavor.
Roasted Carrots. Carrots classically pair well with sweet glazes, and tangy dairy- we just did you a big favor. All you need to do is roast some carrots in oil and warm spices such as coriander, black pepper and cumin. Once they are roasted, place on top of a scoop of ricotta, and sprinkle with fresh herbs.
Baked Butternut Squash, Pine Nut & Ricotta Flatbread. This autumnal masterpiece is everything we want on a cold wintery day. It is fresh, its nutty, its sweet, and…healthy? Start with a flatbread of your choice- homemade or store bought- assemble with a spread of ricotta, good portion of diced roasted butternut squash, and sprinkle with toasted pine nuts. Finish with freshly chopped thyme.
Cannoli Dip. This party classic is made even easier by using our whipped ricotta as a base. Cut the honeycomb into small chunks, and mix into the ricotta with some mini chocolate chips. Serve with your favorite Italian biscuit. Done! You can also pipe it into cannoli shells and dip the ends in crushed nuts for an easy dessert.