Vegan Hanukkah Recipes!
These are delicious vegan Hanukkah recipes you can make with Sickles Recipes. These recipes were created and written by our fantastic team member Julianne.
Sweet Potato Latkes with Tahini Butter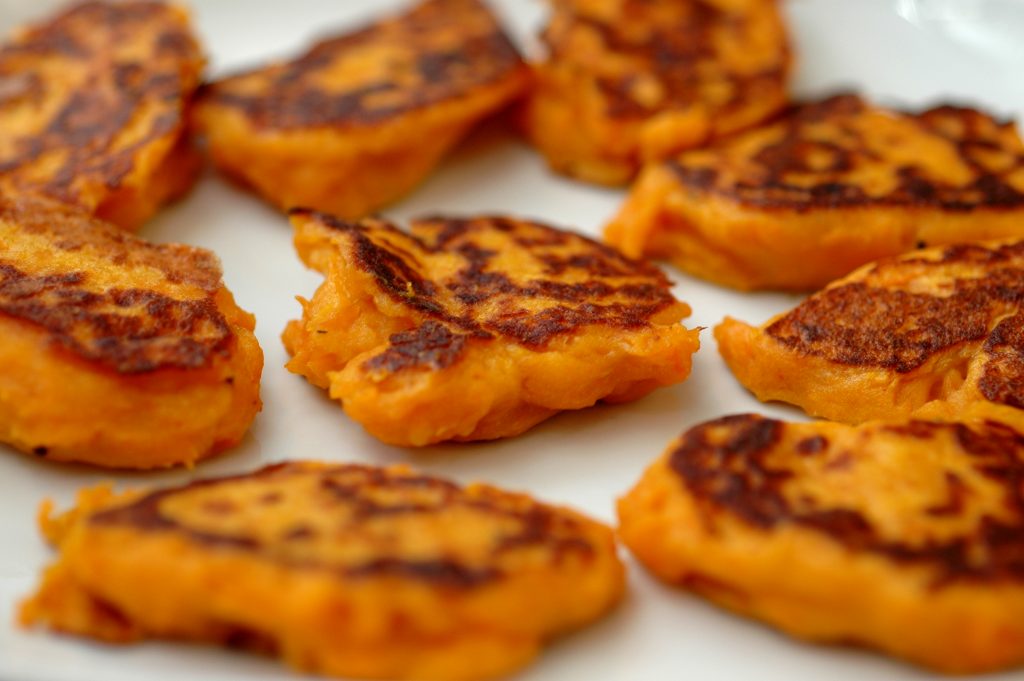 Our sweet take on the classic latke- we use sweet potato and tahini butter to create a nutty, sweet, and
salty combination. Sesame paste and sweet potato are a match made in heaven- add some crisp green
onion and toasted seeds to finish off this tasty snack. Whip these out for the holidays or for your next
breakfast! These are vegetarian with vegan substitutes included.

Latke Ingredients:
1.5 cups sweet potato, peeled and shredded
½ small yellow onion, minced
¼ cup AP flour or gluten-free flour
1 large egg OR 2.5 T warm water and 1 T ground flaxseed
*to make flax egg, mix water and flax and let sit 5 minutes
1 T olive oil
1 T apple cider vinegar
½ t salt
½ t pepper
½ t cumin
¼ t paprika
¼ t cayenne
Safflower/Avocado or Vegetable oil for frying
Scallion, sliced for garnish
Lightly toasted sesame seeds

Directions:
Add shredded sweet potato and minced onion to large bowl. Add the flour of choice, egg or flax
egg, olive oil, vinegar, salt, pepper, cumin paprika and cayenne.
Use a wooden spoon to mix very well- making sure no streaks remain.
Heat a pan to medium-high heat, add enough oil to coat the bottom. Pan MUST be hot in order
to get a crispy latke. Spoon about 2 T of the mixture into the hot pan and flatten slightly with the
back of the metal spoon.
Cook for 1-2 minutes, until bottoms are golden brown, then flip and cook until golden. Add oil as
necessary.
Cook three or four latkes at a time, but do not crowd the pan. Repeat until all the batter is gone.
Place finished pancakes onto a paper towel, and sprinkle with salt and pepper.
Place on serving plate and drizzle with tahini butter, scallion and sesame seeds.

Tahini Butter:

6 T butter/vegan butter, unsalted, room temperature
¼ cup tahini
3 T lime juice
2 T low sodium soy sauce or coconut aminos
1 clove finely grated garlic
Salt and pepper
Make sure butter and tahini are room temperature and soft.
Mix all ingredients in a bowl, season to taste.
Mushroom Black Garlic & Walnut Pate- "Chopped Liver"

Chopped Liver is a traditional Jewish dish that dates as far back as medieval times. In its early stages, the
liver used in this kosher side dish was that of a goose. This was because geese were popularly bred and
raised, they used every part of the bird- not wasting that fatty liver! Later on, chicken became the more
popular poultry choice, and today we take it a step further with this savory, umami, and earthy spread
that is vegan friendly. This side dish isn't 'just chopped liver, it can be the star of your table, atop crostini,
dip with vegetables, or even stuffed inside a meatless roast.

Ingredients:
1 pound Fresh Mixed Mushrooms- cremini, shiitake, etc.
2 black garlic cloves
1 Small Shallot
6 Sprigs Fresh Thyme
Salt and Pepper To taste
1 Tablespoon sherry vinegar
½ cup raw unsalted walnuts
¼ cup of cream cheese or vegan cream cheese, room temperature
Toast the walnuts in a single layer in a 350 degree oven until fragrant- about 5 minutes. Set
aside to cool.
Thoroughly wash the mushrooms and roughly chop, leaving stems on. Set aside in a bowl.
Pour two tablespoons of olive oil into a saucepan. Sautee your shallot, black garlic and
mushrooms on medium heat. Cook together until soft and lightly caramelized, 5 minutes. Lightly
season with salt and pepper. Add thyme and cook on low heat for 4 minutes. You want the
mushrooms to really cook down and the mixture to not get too dry.
Deglaze the pan with sherry vinegar.
In a food processor, add in the walnuts and pulse a few times to roughly chop. Add in the
mushroom mixture and the cream cheese, pulsing until the desired texture is achieved. Ideally,
it would be chunky but spreadable.
Season to taste