Vegetarian Thanksgiving Recipes!
Thanksgiving is fast approaching, almost hurling itself at whoever reluctantly decided to host this year! After cooking up a storm, the fall celebration ends at a beautiful table surrounded by your loved ones- in front of an impressively roasted turkey. A problem any home cook may face is designing a meal that will appease both meat-eaters and vegetarians alike. With the rise of plant-based eating, the classic Thanksgiving meal concept has evolved in bursts of creativity that we are absolutely here for.

Here are some of our ideas for vegetarian dishes that can easily be made vegan if desired. The first is a beautiful autumn salad, filling and nutritious, easily customizable to your taste. You can even add plant-based sausage or winter beans for more protein. The second is a savory and sweet side featuring the mysterious Rutabaga. This side dish will leave you feeling light- and not regretting that second helping of mashed potatoes! These recipes were written by our talented Team Member Julianne!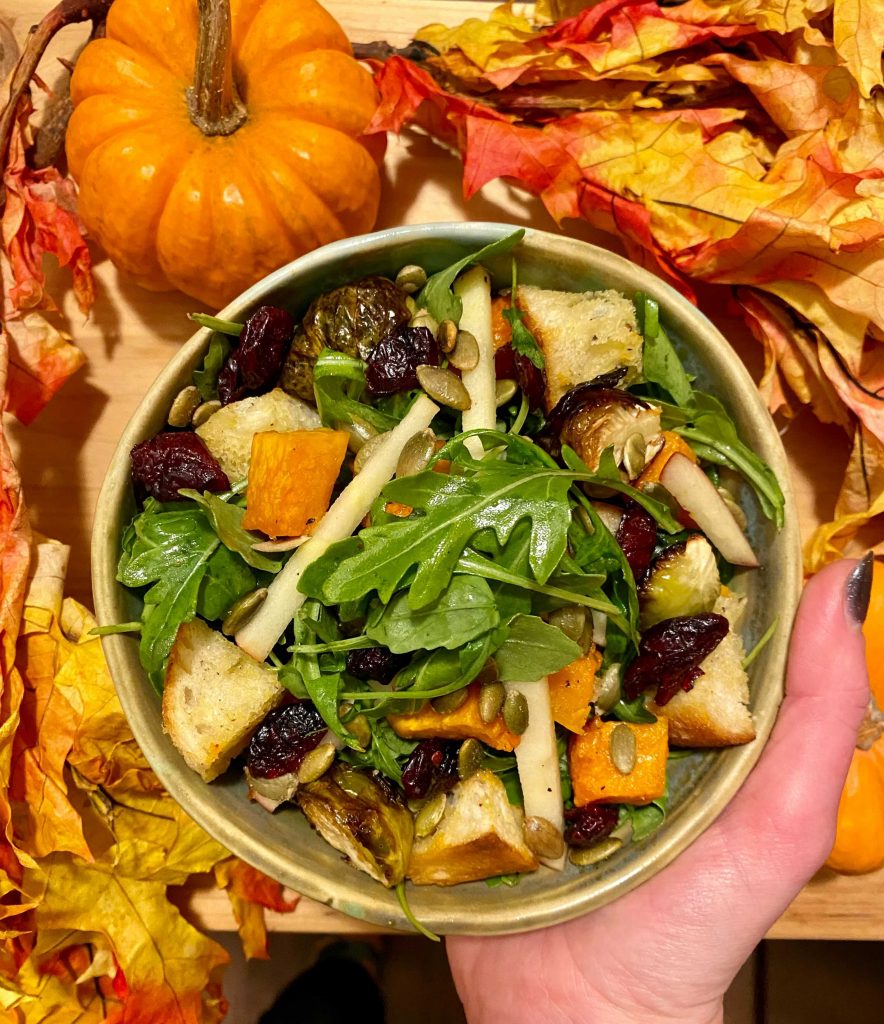 Fall Vegetable Panzanella
This Tuscan bread salad is full of flavor, texture, and color- a fall twist on a classic summer dish. It consists of soaked bread, roasted vegetables, crisp baby kale, and a cider vinaigrette. Our Fall Panzanella is a lovely dish fit for
omnivores and vegetarians alike, and satiating enough to be the main event. Also, a downright delicious way to use
up any Thanksgiving leftovers if made the next day!

Serves 4
Salad Ingredients:
3 cups of crusty whole wheat, focaccia, or bread of your choice, cubed
3 cups peeled cubed butternut squash, 1/2 inch cubes
2 cups halved brussels sprouts
1 Honeycrisp apple, julienned
3 cups baby kale or arugula
1/4 cup toasted pepitas
¼ cup dried cranberries
2 Tbsp olive oil
Optional: ½ cup Crumbled Goat Cheese or Gorgonzola for blue cheese lovers!

Dressing Ingredients:
2 Tbsp apple cider vinegar
2 Tbsp sherry vinegar
2 Tbsp minced shallot
2 tsp Dijon mustard
2 Tbsp maple syrup
1/2 cup olive oil
Salt and Pepper

Instructions:
1. Preheat the oven to 400° F. Line 2 sheet pans with parchment paper.
2. Toss bread in a bowl with 1 tbsp olive oil, salt, and pepper. Lay in a single layer on a sheet pan.
Bake in the oven for 10 minutes, or until golden brown and crisp, tossing halfway through.
3. In a separate bowl, toss butternut squash and brussels sprouts with 1 tbsp olive oil, salt, and
pepper. Lay on a sheet pan and roast for 15-20 minutes, or until fork-tender and slightly browned.
Let cool slightly.
4. In a large bowl, combine the bread, roasted veg, apple, dried cranberries, and pepitas.
5. Toss with dressing and season with salt and pepper. Add the baby kale and lightly toss just
before serving. Top with optional cheese for garnish. Serve right away and enjoy!

Bottles Pairing: Santi Solane Valpolicella Ripasso, or a Semi-Dry, Bold Italian Red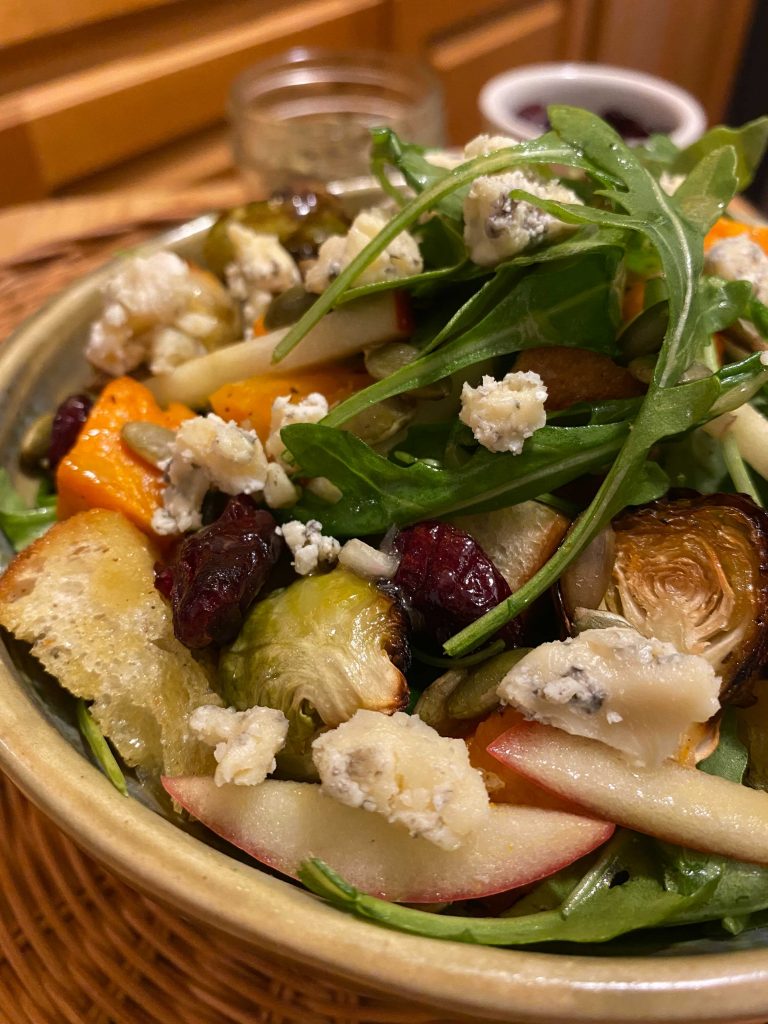 Mashed Rutabaga with Sage Butter
Try a different kind of mash this year! You may have eyed this purple-ish green root vegetable next to a
turnip or radish in the produce section- maybe even found it intimidating. Fear not! The rutabaga, also
known as a Swedish turnip, is extremely easy to cook with and definitely worth adding to your
Thanksgiving artillery. Inside, it presents a beautiful orange flesh, tasting sweet, earthy and nutty.
Rutabagas are complimentary to poultry and or fish, but will also make a great addition to a Vegetarian
Thanksgiving.

Ingredients:
2-3 pounds of rutabagas
1 tsp salt
1 Tbsp maple syrup
1 batch Sage Butter, see below
Salt and Pepper to taste

Instructions:
1. Chop the hard ends off, then peel the rutabagas with a vegetable peeler and cut them into chunks.
2. Place rutabagas in a large saucepan and cover them with water. Add 1 teaspoon of the salt.
3. Bring to a boil, reduce heat, and cover. Simmer for about 25-30 minutes or until fork-tender.
4. Drain and let rutabagas dry slightly in a colander. Mash the rutabagas with sage butter, and
maple syrup. Season with salt and pepper. Serve immediately!

Sage Butter
4 oz butter/vegan butter or even olive oil
1 clove chopped garlic
¼ cup fresh chopped sage
1/8 tsp black pepper
Pinch kosher salt
Directions: Add all ingredients with your butter/oil of choice. On low heat, let the ingredients infuse for
2-3 minutes. Remove from heat and add to mashed rutabaga.
*If using butter, you can let the butter brown slightly for a nutty flavor- be cautious to not overdo it!

Bottles Pairing: Gewürztraminer or French Pinot Blanc