Interview with Brightland Olive Oil Founder, Aishwarya Iyer.
We're really excited to bring Brightland to Sickles Market. Featured on Bon Appétit, Food & Wine, Food 52, and Epicurious, it's safe to say that this Olive Oil is getting lots of attention. We were honored to interview the founder Aishwarya Iyer about how she began her journey, what makes up a good olive oil, and much more! Fine these fabulous products in Sickles Market – our Little Silver, NJ location.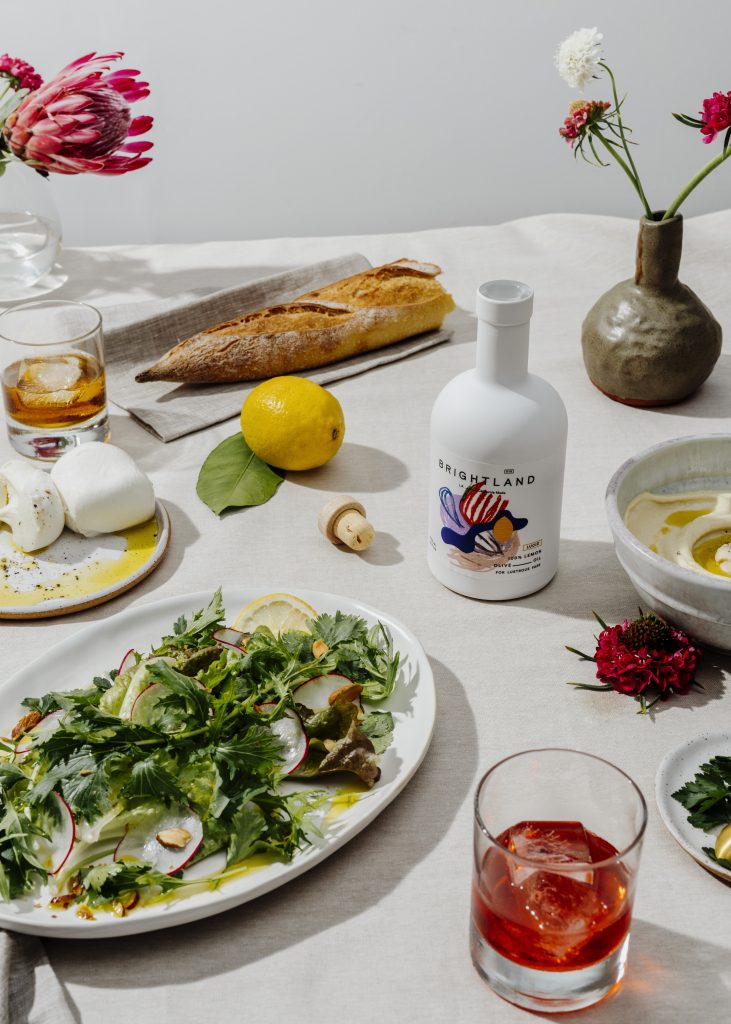 Tell us about how you started Brightland! What was your background in food?
After discovering that the majority of olive oil Americans consume is rotten, rancid, or adulterated, I felt this strong need to do something about it. While I don't have a background in the culinary space, I couldn't ignore the feeling. The urgency only deepened after I relocated from New York to Los Angeles four years ago. I founded Brightland in 2018 with the intention of championing transparency in the consumer goods space with an American-made olive oil (ours is produced in California) that also shines a light on the importance of knowing where your olive oil is coming from, how it's produced and vital information such as the harvest date.
The bottle design was also crafted for functionality and aesthetics – the opaque bottle keeps the oil fresher and the label was envisioned to celebrate the spirit of California. It's become a cornerstone of the brand and I love seeing fans displaying their bottles on their countertops and tables.
You mention on your site a change to make a better food production for American olive oil, what was the major change?
We are fortunate to work with an incredible family-run olive farm in California's Central Coast. They have a certified organic mill and master miller on-site, so we are able to stay really close to the process to create our custom Brightland blends.
High-quality, fresh olive oil is rich in polyphenols which are micronutrients packed with anti-inflammatory antioxidants that can support overall health. The higher the polyphenol count, the more nutritious the oil. Extra virgin olive oil is a great way to deliver fat-soluble vitamins and nutrients while cleansing us of fat-soluble toxins, and there are reported beauty benefits such as improved complexion, glowing hair, and eyes, etc. Many of our customers will take a shot daily to maximize the benefits.
What are the main differences between these two oils "Awake" and "Alive"?
We work closely with our farm partner to identify the best California-grown olives for our custom blends with the desired flavor profile in mind. Our AWAKE features heirloom Coratina olives, so the end result is very complex and herbaceous for cozy dishes, and our ALIVE is a blend of Coratina and Frantoio for a nuttier, fruity profile that's great for salads and vegetables. We use our Frantoio olives in our LUCID (lemon olive oil), ARDOR (chili olive oil), and ARISE (basil olive oil) as they are a great blending olive.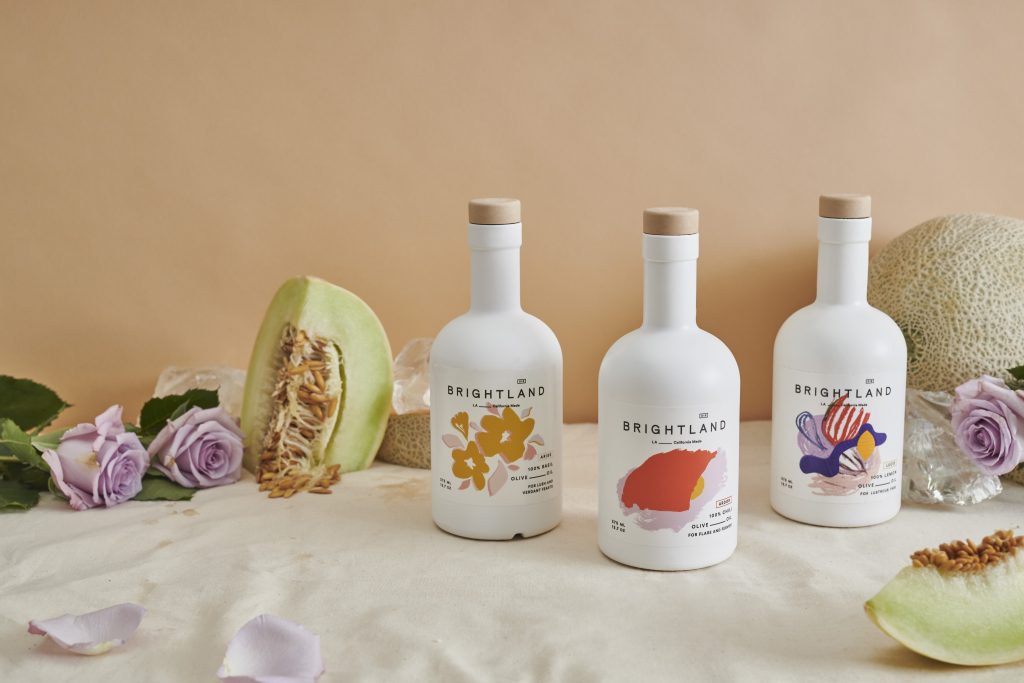 You expanded to making vinegar as well. Can you tell us about "The Pair" and are there other products you are developing for the future?
We introduced two fruit-forward, double-fermented, and family-farm to table vinegar, each with its own distinct flavor palette and tasting notes, lovingly made in California.
Our fruit-forward vinegars are made on a family-run farm in California's Central Coast. Champagne and Zinfandel grapes, Navel and Valencia oranges, and ripe Triple Crown blackberries are grown in nutrient-dense soil, selected with care, and double fermented in stainless steel. Vinegar has been a staple since ancient civilization – in Egypt, China, Italy and France. It's been mixed with water, served with bread, and flavored with pepper, clover, and roses. Ours is an expression of the California sun, soil, and fruit; it is history infused in every bottle.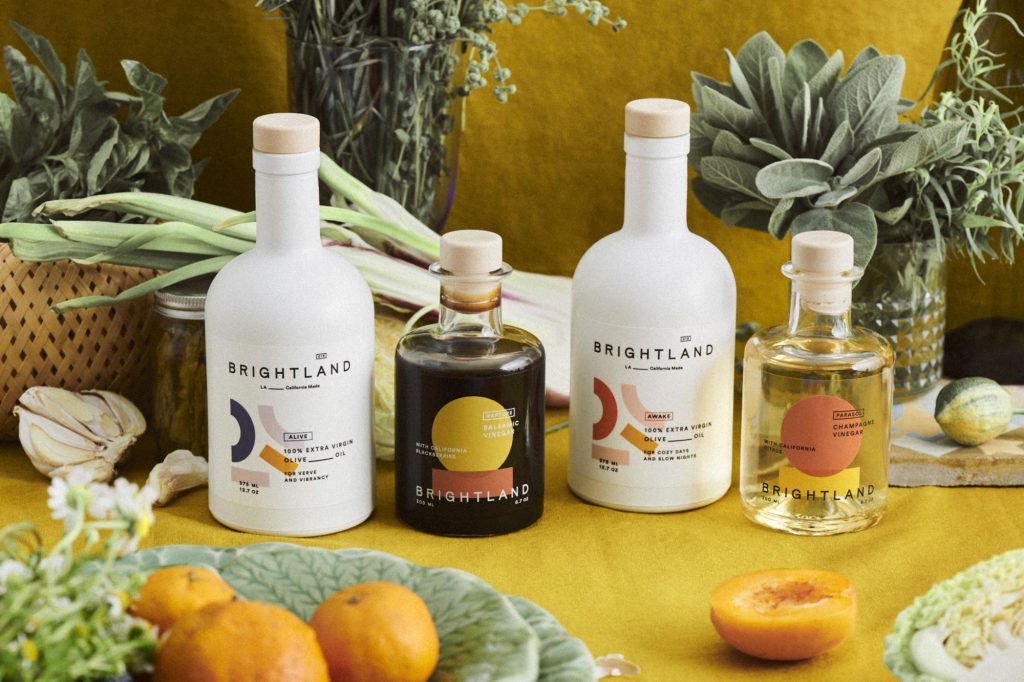 What are your favorite ingredients to work with?
I love that each has a distinct personality and spirit. There's an intentionality about using the oils… on a cold night, I find myself reaching for AWAKE to make something that makes me feel cozy. When I'm craving vibrancy, I want to drizzle ALIVE over a big bowl of greens. The flavored olive oils in our Artist Capsule collection are similarly crafted with that mindset. Am I feeling fiery? ARDOR will capture that mood. Am I craving something with zest and verve? LUCID is my liquid sunshine. And our basil olive oil, ARISE, is a burst of summer in a bottle
You can put Olive Oil on anything, what's your favorite unlikely pairing?
YES: Olive oil and vanilla ice cream, and olive oil drizzled over chocolate!
Learn more about Brightland here!
Read more interviews like this here!