Better Than Bailey's, Sorry but we're not Sorry!
New at Bottles is the best Irish Cream Whiskey you will ever have. It's like drinking melted gold; it lusciously coats the palate with flavors of coffee with fresh cream, dulce de leche, coconut, maple, and Belgian waffles. Five Farms is a single batch Irish Whiskey Cream Liqueur from County Cork – Ireland's largest and southernmost county. Five Farms is a genuine farm-to-table product. Crafted from single batches of fresh cream within 48 hours of collection, the premium Irish Whiskey then transforms into authentic Irish Cream Liqueur! The cream is sourced entirely from five family-owned farms in County Cork. They have a deep connection to the land and they are very passionate about the quality of their products, it's a dedication you will taste!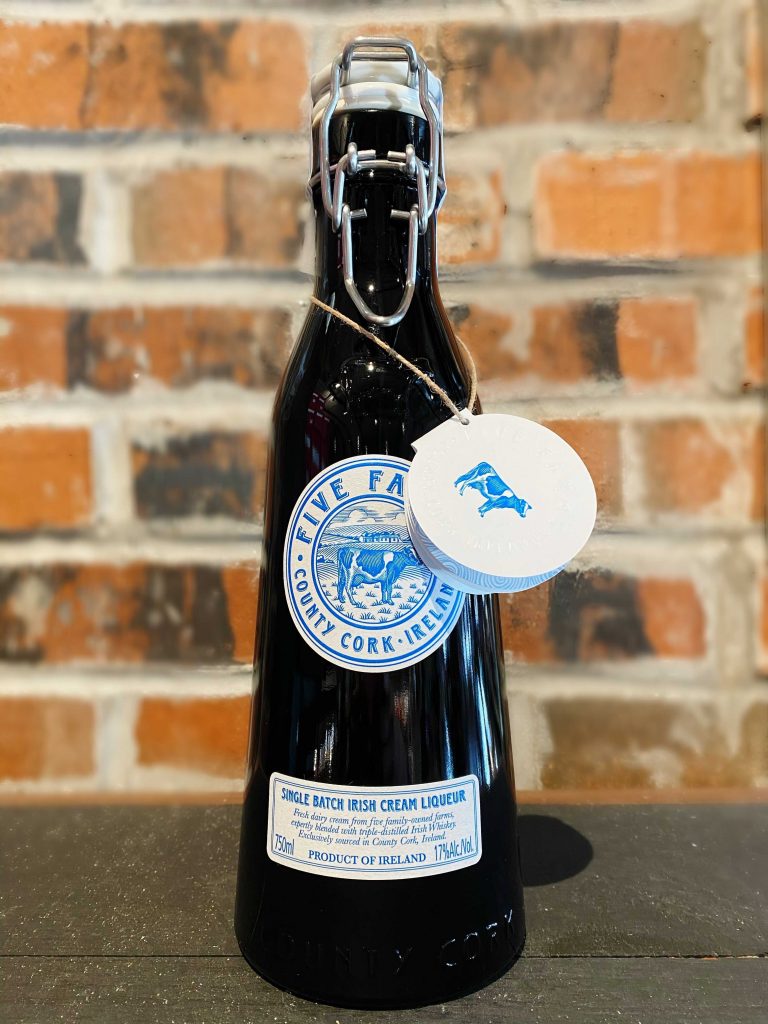 The mild climate and abundant rainfall in County Cork result in fertile farmland for dairy cattle, who spend their days basking in the fresh sea air and grazing on the vibrant green grass. These are the happiest cows in the world and they are treated very well, this is a huge part of what makes this bottle so consistently good. They use the centuries-old tradition of distilling authentic Irish Whiskey. Premium triple-distilled Irish Whiskey has a smoothness and complexity that add depth to the sweetness of the cream. Five Farms contains a more generous amount of Irish Whiskey than other brands on the market. It allows warmth to be added to the rich Irish cream flavor. The Five Farms container is in the style that dates back to the early 1900s. The black glass creates an elegant presentation and allows the bottle to be recycled. It's a great way to make a white Russian or even a root beer float. But chilled by itself in a glass is just perfect! Cheers!