Bolero Snort: The Matadors of NJ Craft Beer! (Interview)
Bolero Snort started out as a gypsy brewing out. Co-owners Bob Olson JR and Scott Wells operated all facets of the business for many years with just the two of them, handling the functions of recipe development and implementation, exploration, sales, distribution, and more. In 2019, they moved into a built 16,000 square foot production brewery in the heart of the Meadowlands, Bolero Snort Brewery opened its doors for the first time. Known for their extraordinary flavors, we talked to Scott Wells about how they became the matadors of NJ Craft Beer!
When did an interest in beer turn into wanting to open a brewery?
For us, it was a couple of different things. My partner, Bob Olson, has always wanted to be an entrepreneur and was an avid and award-winning home brewer, so like many others in the industry it was a natural progression for him. For me, I was working for corporate America and not really enjoying killing myself for a large company. I've always been a small business-minded supporter, and a craft beer enthusiast, so shifting into this industry was an incredibly rewarding no-brainer. In this world, we are our own small business that supplies small businesses around the state and helps everyone grow together.
How did Bob's Beers turn into Bolero Snort, and how did the Bolero Snort come to be?
Well… "Bob's Beers" was not only a terrible name, but they featured his face on the label… so everyone warned him that wouldn't go so well for us on the market. Being the narcissist that he is, he tossed his name into an anagram maker and it spat out "Bolero Snort." Bolero being the jacket that a matador wears, and snort being a thing a bull may or may not due, that became our name and this became a story that I am now forced to tell every single day of my life.
You are constantly putting out new beers, what is your process of idea to brew?
I love this question.  As much as we'd all love to believe we have this grand master plan, it's really not that fancy.  We've grown into a larger team, now with over 25 team members.  The creative process comes from many different angles and everyone on staff is part of it.  Sometimes the concept for a beer starts with a style or a new take on a style.  Other times it starts with a clever name.  Occasionally, it stems from a concept for the label artwork.  When we get together, we hash all of these ideas out. 
We have to figure out if the final product is something the market would want to buy, does the marketing behind it makes sense, does it make sense for our brand or seasonality, etc. We have lists of names or concepts for beers from over the years that we haven't even brought to the market yet for one reason or another, but every single decision comes down to us hedging our bets on if the final product is something that, you, the consumer, wants from us. We're very fortunate to have the technical know-how and ability on the recipe development and production side, in addition to the finest label artist in the business, to take some of these crazy ideas and bring them to life.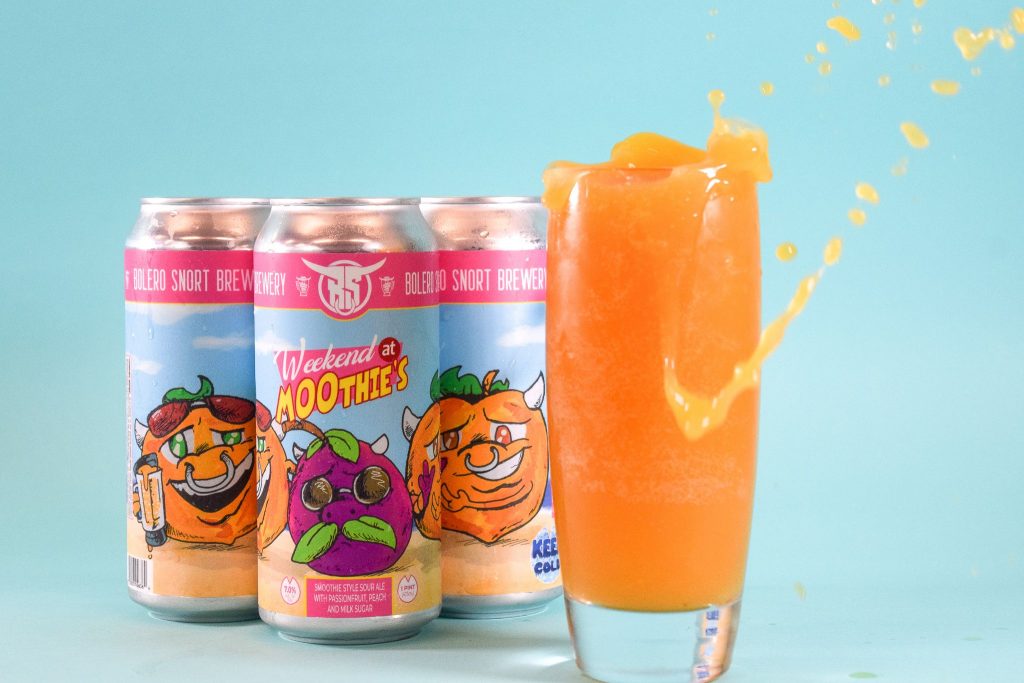 How did the smoothie series come to be?
For us, it was kind of an obvious natural progression.  So many of our beers are born out of the same type of inspirations like nostalgic candy or desserts.  We tend to not take beer too seriously as it's meant to be fun, so that's kind of our mindset from the beginning of the process.  We are avid fans of sours, and one of my personal favorite beers that we've ever made is our Bull Pop Berliner (and one of our earliest beers produced when we branched into new breweries as gypsy brewers many years ago). 
We had some excellent business success in the sours market already and had developed a pretty great reputation for making them.  When we got our new production facility open last year, it became a top focus for us and we started working out new styles, flavors, and techniques.  We've always been known for pushing the limits in many regards so a lot of these types of beers are a big part of that.  
We wanted to ask about a Bolero classic that came to be like the cereal-inspired Fruity Pebbles, which was seemingly one of the first in the recent dairy trend in beer?
You mean Juicy Pebbulls right? 😉 We actually changed the name to Juicy Pebbulls a few years back to not create any confusion with a certain breakfast cereal that we all absolutely adore, which may have been the inspiration for this beer. It's funny to me to think of how long this beer has actually been around because the popularity of the style is still so new. Yet, while we're known for making some absolutely crazy beers with some crazy ingredients, this beer goes against that norm for us. The beer itself evokes the familiar flavors of the breakfast cereal without having any crazy added fruit. The only out-of-the-norm ingredient involved is milk sugar (lactose) which does give it some added body and perceived sweetness and creaminess that really brings the whole beer together.
Your can have amazing art, not one is like the other. How did you find Jim Khol, your artistic director?
Like most of us, he was a stray… In all seriousness though, we met Jim years back while hanging out at one of our favorite local craft beer bars. Jim had been doing some artwork for the restaurant and friends of ours that worked there and we decided to collaborate on a project for one of our labels. It sparked a big changeover of the bulk of our artwork. As I mentioned earlier, he really is the finest in the business. The craziest thing is how he somehow understands what I'm describing when he and I collaborate on a label even though I'm doing a terrible job of explaining what I'm imagining. He somehow can take that nonsense and absolutely NAIL it on paper.
Around 2019 you moved into new facilities, how has that been for production?
How much time do we have?  It was a LONG road of gypsy brewing.  7+ years.  We found the property where the brewery would be located and even from that moment to getting the place open was a solid 2 years.  We promised everyone we would be open in 2019, so when we got our permits from the state with 3 days left in the year, we said "caution to the wind" and did an impromptu soft opening that night… but we DID open in 2019.  Aside from the obvious insanity of having only two months between our grand opening, and very un-grand closing down for the pandemic – another story for another day – having our own production facility meant it was a whole new ball (bull) game for us. 
We had years worth of beer ideas that we held back on brewing until we controlled our production from end to end, and we finally got to start working them out.  We are very fortunate that we built a world-class staff, and quickly, on the production side because we rocked and rolled right out of the gate.  Having the full means of production meant we were able to continue to move beer into cans once the pandemic ended draft business everywhere and we were able to continue to bring our fine beverages straight to the consumer thanks to our fine retail partners such as Bottles by Sickles.  But really, we got to play with some really cool new toys that helped us bring our game up to the next level and create some beers that, at least in my mind, are completely unparalleled on the market.  
We heard one of your Team Members is referred to as the "Truffle Pig", we liked to hear the story about this.
Oh, Truffle Pig. So Alex, who's probably held nearly every position in the company, has this odd uncanny ability. We own all of our own kegs, so getting them back from the market to clean and reuse them is critically important. Well, there have been many occasions where other team members (mostly sharing a name with me and me alone) have gone to accounts to do deliveries or even just pick up empty kegs, but have not found the right amount of kegs at that place of business… In comes truffle pig. He can just sniff them out. It's become the thing of legends. He'll go to a bar that all history shows should only have 2 of our kegs in the building, and somehow he'll find a third.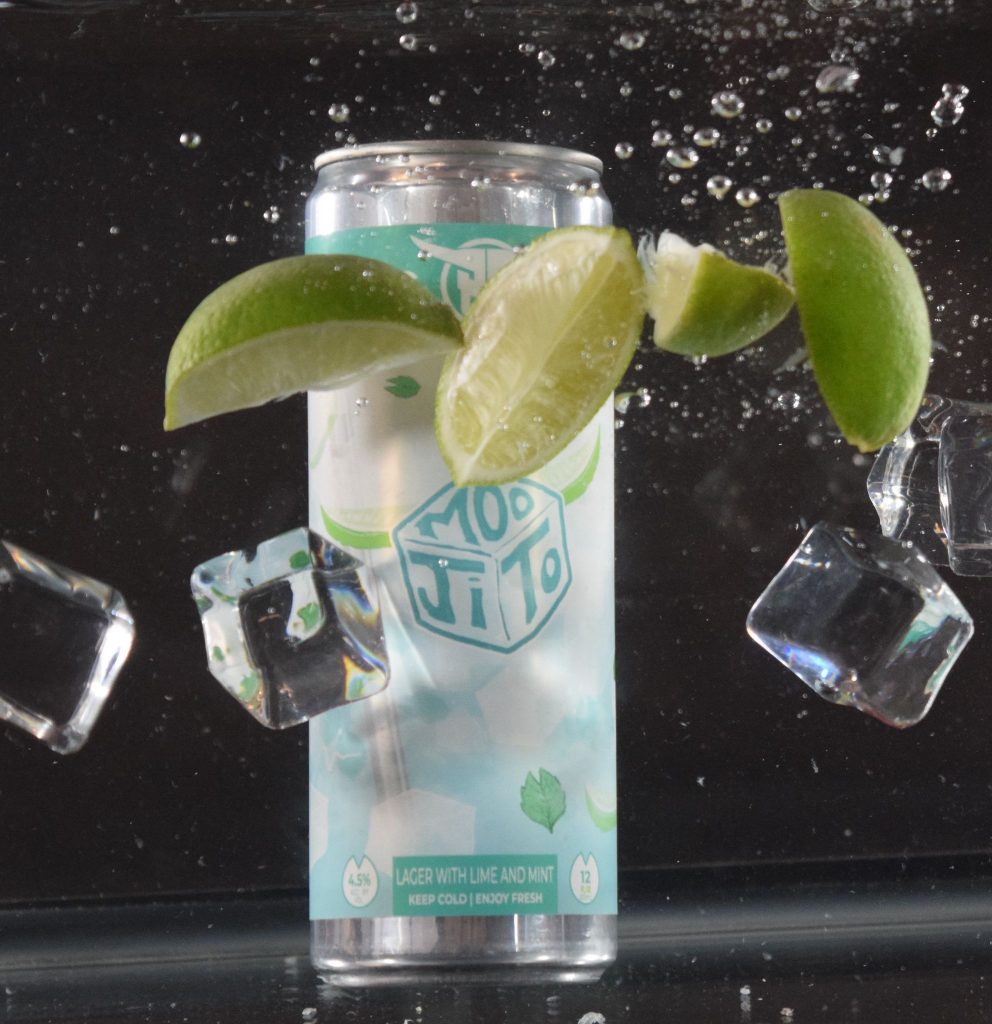 What is your current favorite on the lineup? And what meal would you pair it with?
I know everyone's expecting me to say The Bull Abides because it's the white Russian-inspired stout which was basically made FOR me, or one of our crazier sours, or something like that but in actuality… it's Ragin' Bull. Our core amber lager was the first beer we ever produced and sold commercially and the only beer from our early days that still not only lives on today but is among our most popular. We're typically ubiquitous with smoothie sours, or milkshake IPAs, and things of that nature, but damn it there's something wonderful about that Friday night, home from work, crack a can in the backyard beer. And my go-to is always Ragin' Bull. An amber lager, it goes perfectly with lazy Friday night fare: grilled burgers or strip steak, or more commonly on a super lazy Friday night – pizza delivery.
What are your favorite local breweries?
Oh man, this question is unfair.  I'm going to cop out for friendship's sake and political reasons.  Every brewery in this great state is my favorite brewery.