Delicious Vegan Items in the Sickles Red Bank Cheese Department!
Vegan cheese is not just a replacement for regular cheese, it is its own specialty. It's not about completely replicating the flavor, but it is focused on having its own unique and delicious experience to offer. Here at Sickles, we believe it's important to try everything because you never know what you'll end up discovering – LIKE these two new lines of vegan cheese Treeline and Conscious Cultures.
Let's answer the big question before you even ask it! Why do vegan cheeses use cashews? Vegan cheese companies use cashews as the base for their cheeses for their delicious taste, creamy consistency, and health benefits. Cashews have zero cholesterol and contain heart-healthy monounsaturated fats that help the heart to function well, lower blood pressure, and keep cardiovascular diseases at bay. They are also high in protein and fiber. Vegan cheese can be great for when you want to replace the cheese in your life with a healthier alternative.
Treeline – Plant Based Cheeses from New York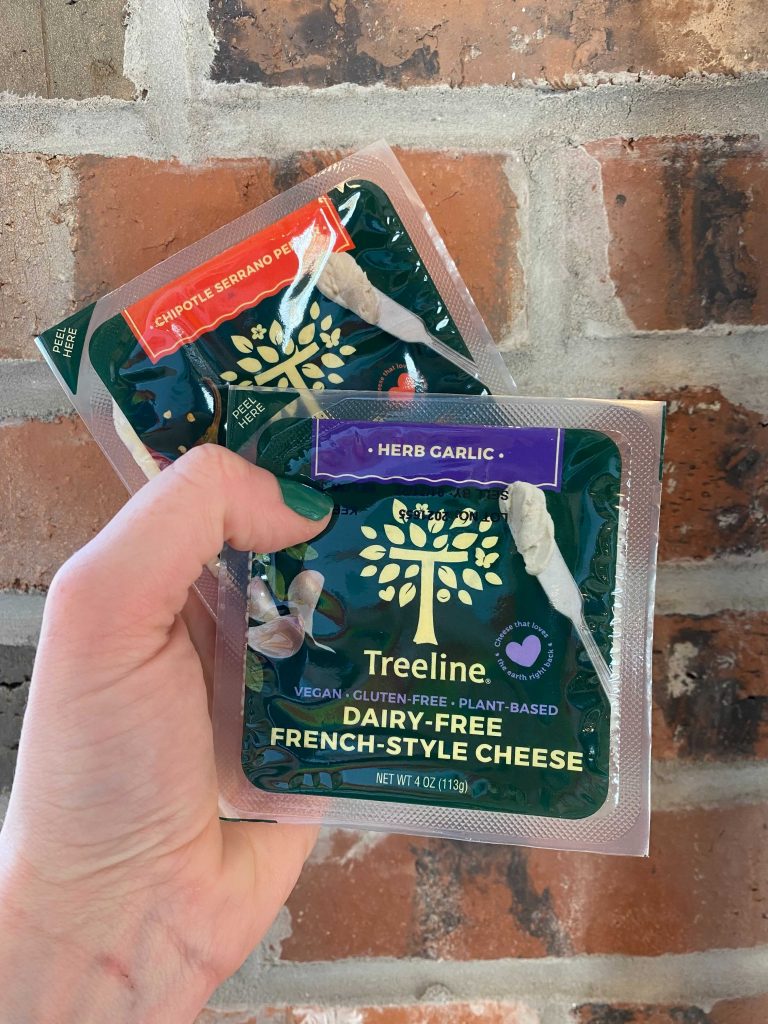 First up we have Treeline Dairy-Free French Style Cheeses from New York. These soft spreads are full of flavor and tang, boasting a super creamy, smooth texture. With healthy cultures and fats from its fermented cashew-nut base, these rich spreads are a great addition to your dip night or charcuterie board. Spread on a bagel, everything-seasoned crackers, serve with fresh cut crudité, or spread onto a wrap with pickles and your favorite roasted veg. These are great starter vegan cheeses. These spreads will convince any non-believer into how much flavor these cheeses can have!
Conscious Cultures – Crafted in Philadelphia and Made from Plants!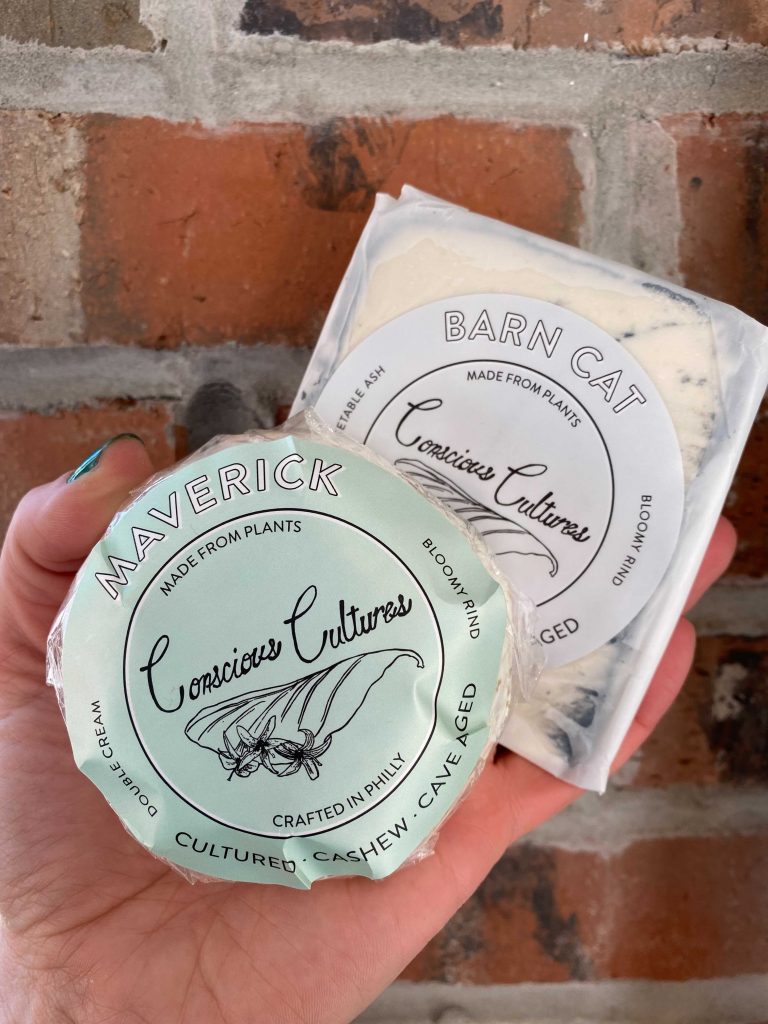 Conscious Cultures will stun you with its good looks and even more so with its taste! This Philadelphia creamery goes beyond simply "substituting" classic cheese varieties. With tremors of ash, pillowy white rinds, and buttery pastes, these cheeses are made with traditional affinage techniques. Starting with cashew and coconut milk, the wheels are cultured, shaped, washed, and cave-aged, Unlike anything we have ever tasted, these little miracles not only look stunning, but they have changed the game for plant-based eaters. Barn Cat has a beautiful lunar-landscaped rind, ripened with vegetable ash. This gives it a tangy, mineral flavor that finishes with subtle nuances of nuts and sweet butter.
Fig Salami, Dried California Fruits, Chutney, and Sweet Corn Crackers – OH MY!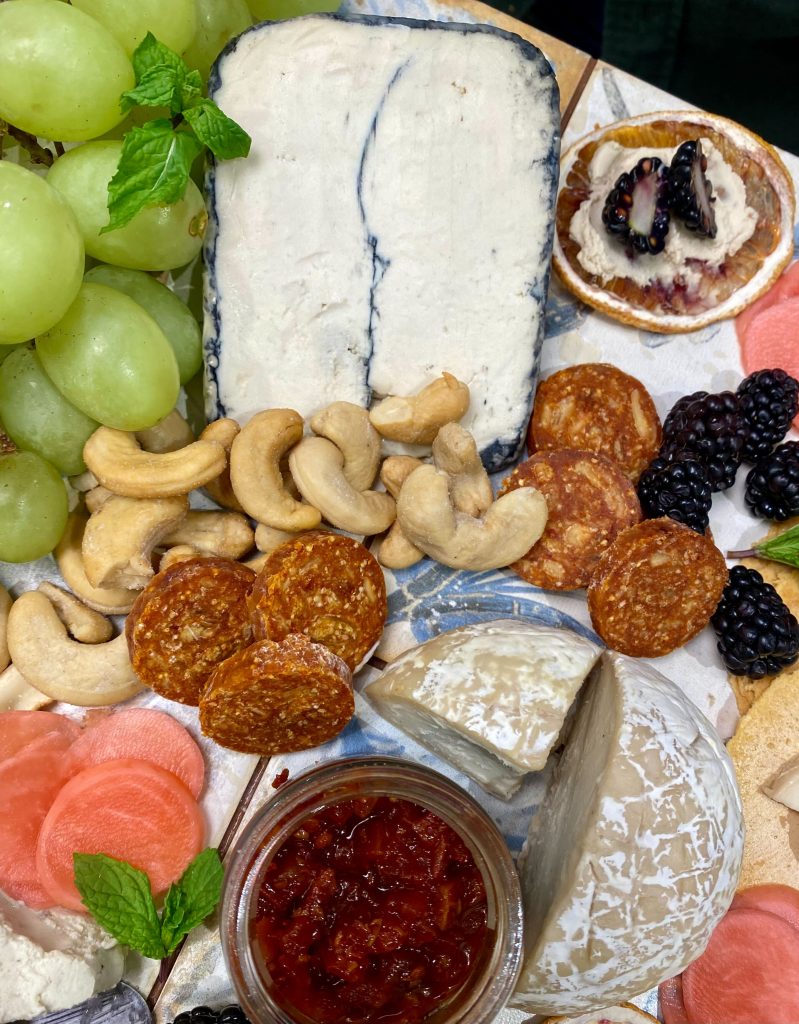 All the other items on the board are flavor boosters for the cheese. Hellenic Farms collection of 100% plant-based Fig Salamis are made from premium figs, Aleppo pepper or cinnamon, and dried fruits or nuts. Kansas City Canning Co's Pickled radishes are zesty, crunchy, and bright, with a delightful pink hue! They taste lovely on a crusty piece of bread paired with Treeline Dairy-Free French Style Cheeses. Dardimans' blood oranges are hand-picked exclusively from California orchards. Dardiman's maintains the integrity of fresh blood orange in color, aroma, and flavor. Craize's sweet corn cracker sweetness pairs extremely well with all toppings. Le Bon Magot's Tomato and White Sultana Chutney contains the sweet fruit of a tomato paired with piquant Kashmiri chilies. Jazz up your charcuterie or spread on toasted ciabatta.
Read more food blogs here!
Read more about Treeline here!
Read more about Conscious Cultures here!