Vegetarian Winter Holiday Recipes!
A Christmas Dream…
A beautiful table brimming with appetizers, antipasti, crudites, and nuts. The savory roast, potatoes,
sauces, and other tasty sides wait impatiently in the kitchen for their moment. An indulgent dinner is
followed by drinks and coffee, enjoyed with bites of Christmas cookies, sky-high cakes, marzipan fruits,
lattice pies, and chocolates galore. Not to mention the flurry of spiced cocktails, mulled wine, and warm
hot cocoa. The dream ends with a carol in front of a warm fireplace or a walk in the snow with loved
ones.

A realistic Christmas, despite our best efforts, never quite looks like this. But agonizing over perfection
will never be worthwhile, or more important than a night with loved ones. Every family and every
holiday is unique and will look a little different.
Perhaps you'll spend most of the night rounding up kids for dinner, engaging in an unplanned yet memorable game of hiding and seek. Maybe you spend your holiday with a friend, enjoying diverse scenery and making note of tasty new recipes. Perhaps you'll finish a long night of work and come home to a furry friend, a cozy couch, and a well-deserved bottle of wine.

To make the food planning a bit easier, we have created some vegetarian celebration recipes that
highlight classic winter flavors. Citrus (a winter fruit at its finest), roasted brassicas, nuts, dark fruits, and
grains. We even included a cocktail if the day calls for one! These recipes are easy, flavorful, and
guaranteed to please- no matter what your holiday looks like.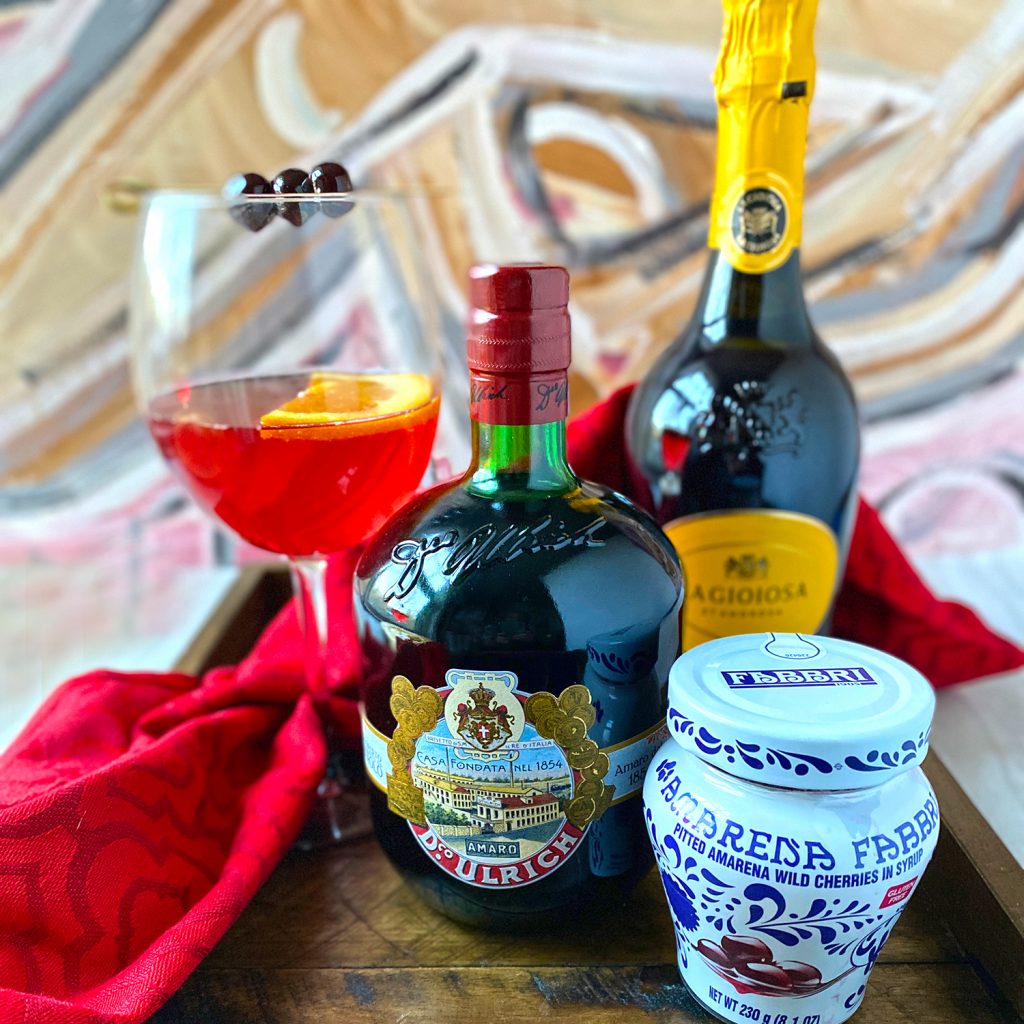 Amarena Spritz
This light winter cocktail features Amarena Cherries, aka, Italian gold sealed in a small blue and white
urn. Made from wild sour cherries and preserved in a sweet, dark syrup, these are an indulgent Italian
sweet. Their tangy sweetness is a classic pairing to prosecco and bitter liquors such as herbaceous
Amaro. These bittersweet cocktails present beautifully and are simple enough to whip up amongst the
feeding frenzy that is Christmas dinner.

1 teaspoon Amarena Cherry Syrup
3 oz Prosecco
2 oz Amaro Liquor
1 oz soda water
Fabbri Amarena Cherries
Toothpicks

Directions:
Add the amaro and cherry syrup to the bottom of a glass. Fill with ice and stir. Top with sparkling wine
and soda water. Top each glass with three or four cherries skewered with a toothpick.
Barley & Beet Salad with Winter Citrus Dressing
My mother makes this vegetarian salad for most holidays- it was my first introduction to beets and for that, I will be
forever grateful. This salad has your festive greens and reds covered, with crunchy pomegranate seeds,
fresh herbs, arugula, and citrus. It is the perfect mix of salty and sweet while being incredibly satiating
from the nuts and pearl barley. A bonus is that it tastes even better the day after.
Vegan without the honey and goat cheese
Serves 4
DRESSING
1 garlic clove, minced
2 tsp honey or agave
Zest of 1 orange
Juice of 1 lemon
½ tsp freshly ground black pepper
½ tsp salt
5 Tbsp olive oil
SALAD
2 Medium Beets- bonus if you find them with leaves still on
option to use precooked beets if you can find them!
½ cup pearl barley
Pinch Kosher salt
4 handfuls of arugula or chicory, and beet leaves
1 cup fresh mixed herbs
2 celery stalks
½ red onion, sliced
½ cup pomegranate seeds
½ cup crumbled goat cheese, optional
1 cup radish, sliced
½ cup walnuts, toasted
Instructions:
For the dressing: mix all ingredients in a mason jar, or whisk all together in a bowl.
For the beets: Preheat oven to 350F. Scrub the beets clean and remove any stalk or leaves. Cover each
beet in foil after sprinkling a bit of salt on top. Place on a baking sheet (with sides to prevent a beet juice
spill!), and roast for about 1-1.5 hours depending on the size. They are done when fork-tender. Let cool
and peel the skin off with a towel or a paring knife.
*This step can be skipped if you purchase pre-cooked and peeled beets. Thank the food gods.
Boil 2 cups water in a small saucepot. Add the barley and lightly stir.
Let simmer on low heat until cooked- there will be excess water in the pot even after barley is cooked.
Check after 25 minutes, tasting it to make sure it is tender. Drain and cool.
To assemble salad, mix the barley and all salad ingredients ADDING BEETS LAST. Place in serving bowl.
Top with cheese (if desired) and nuts. Toss with dressing, drizzling extra overtop.

*The beets will release their signature pigment all over your salad, so if you are going for aesthetic,
arrange them on top and mix in carefully.*

Bottles Pairings: Chateau De Malengin, Montagne-Saint-Emilion (Red) &
Cotarella Sodale Merlot Lazio (Red)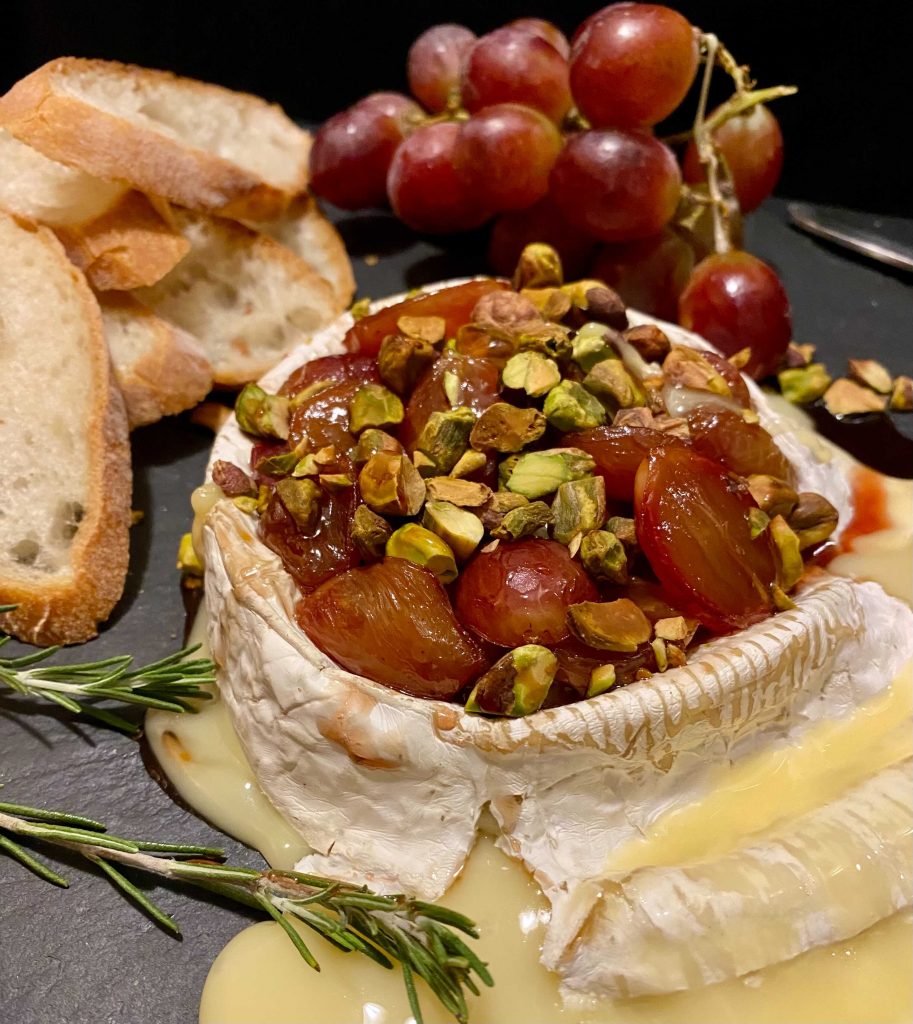 Baked Brie with Caramelized Grapes, Brown Sugar, and Pistachio
Oozy, salty, creamy, melty, sweet, tart, nutty, vegetarian and in 15 minutes or less. Need I say more?

Ingredients
1-lb whole brie, at room temperature with rind intact
1 bunch of red grapes, whole
2 T brown sugar
½ cup shelled pistachios
*Option to add in a dash of balsamic vinegar to your grapes as they cook!*

Directions
In a medium saucepan, heat 2 Tablespoons of hot water
Add in the brown sugar and dissolve. Add in the red grapes, sautéing on medium heat until they
soften and blister. Set aside.
Toast the pistachios until fragrant in a 350F oven, and chop lightly.
In the same oven, put the brie on a parchment lined, lipped baking sheet. Bake brie for 10
minutes.
Top with the warm grapes, toasted pistachios and a sprinkle of coarse salt. Serve warm with
crackers or crusty bread.

Bottles Pairings: Les Vignes du Precheur Blanc, Vin D'Alsace (White) &
Champagne Encry, Grand Cru Millesime
Roasted Brassicas with Romesco Sauce

This is a fun vegetarian dish, with lots of earthy flavors and textures- everything I want in the middle of winter. The
roasted veggies pair nicely with sweet, spicy romesco sauce, and the raw Brussels add a satisfying
crunch. It is in essence a salad, without all those pesky greens in the way. This romesco sauce is so good,
you'll want to put it on everything! This dish is vegan save for the optional halloumi.
1 head romanesco or broccoli cut into florets
1 head cauliflower, cut into florets
1 cup brussels sprouts, shaved
1 tsp coriander
½ tsp cumin
¼ tsp cardamom
½ tsp paprika
2 Tbsp olive oil
Salt and Pepper to taste

Romesco:
1 cup unsalted raw almonds
3 red bell peppers, diced into large chunks
1 tbsp Calabrian chili peppers in oil
1 Tbsp sherry vinegar
4 cloves garlic
6-8 sprigs of fresh thyme
4 tablespoons olive oil, separated
Salt and pepper to taste
*Optional Addition: 1 8.8 oz block Halloumi, cubed*
½ lemon to finish
Instructions:
Toss the Broccoli and cauliflower in a bowl with 2 T olive oil and all the spices.
Roast in a 375F degree oven for 20-25 minutes. Once fork tender, remove from oven and let
cool. Toss with shaved brussels sprouts. Set aside.
For Romesco:
Toast the almonds in a 375 degree oven for 5-7 minutes, or until fragrant.
Toss the diced red bell peppers with the whole garlic cloves, thyme leaves and 2 tablespoons
olive oil. This will be pureed all together, so it doesn't matter how the pieces look. Roast at 375F
for 20-25 minutes, or until soft and lightly browned.
Mix all prepared romesco ingredients in a food processor and roughly pulse until it comes
together. You can make this as smooth or chunky as you'd like. Season with sherry vinegar, salt
and pepper.
To plate, place a spoonful of the romesco on the bottom of the plate. Put a pile of the roasted
brassicas on top. Finish with sautéed chunks of halloumi if desired. Drizzle with lemon.
Bottles Pairings: San Salvatore Falanghina Campania (White) &
Chateau Mont-Redon Gigondas (Red)

Blog and Recepies by Julianne Scott!
Read more of our Team member's recipes on our blog!