Delicious Vegetarian Recipes for Passover and Spring!
Bright and bold with no shortage of flavor, and seasonal fruits and veggies, here are some wonderful recipes to add to your repertoire! One important thing we pride ourselves on at Sickles, is that our Team is full of foodies and cooks, in and outside of the workplace. Team Members in every department share delicious dishes with us on the reg! We are one lucky bunch. Take a look at these perfectly seasonal recipes perfect for both Spring and Passover! Most items (not all) can be found at Sickles Market and Sickles Red Bank, and don't miss the wine pairing suggestions at the end! They are 100% all available at Bottles by Sickles right now! Cheers!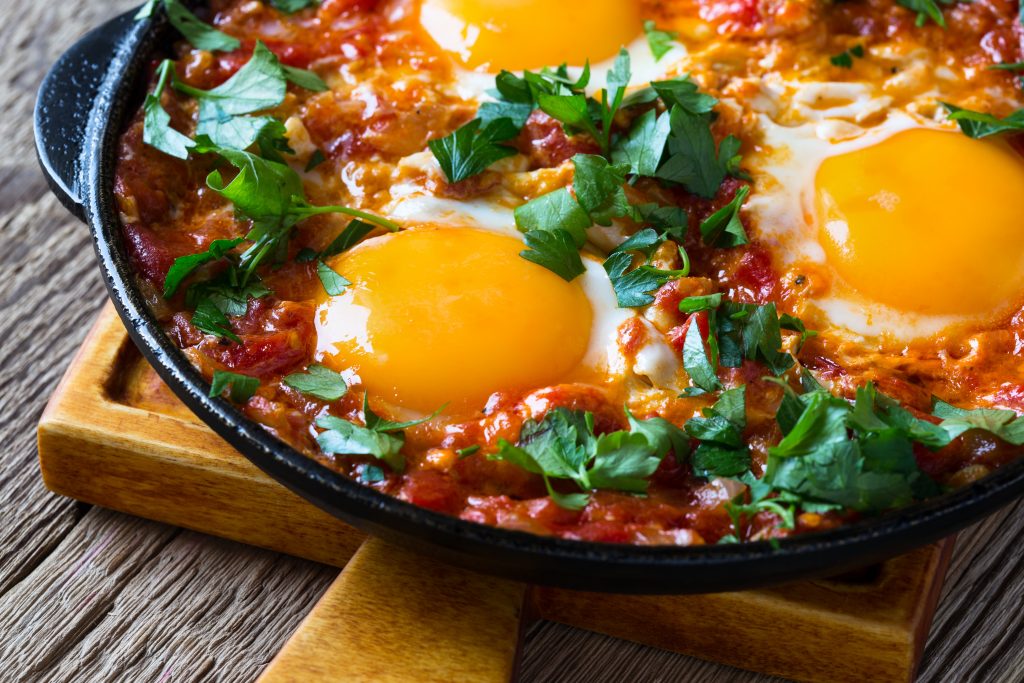 Shakshuka with Matzo
This Middle Eastern and Tunisian breakfast classic has made a big appearance in American food culture. We can see why- it is a bright, spicy start to the day. Variations of Shakshuka have been known to make it onto the Passover table, with kosher feta and crisp matzo for dipping of course. Our version has added eggplant and bell pepper bring the dish into spring. This recipe can easily be adjusted to feed larger groups, or made smaller just for two! It is inherently vegetarian, and can easily be made vegan with tofu or vegan cheese. With some crusty bread it becomes the perfect weekend comfort food!
Four Servings
Ingredients:
1 large onion, small dice
1 medium eggplant, medium diced
4 tablespoon olive oil
1 large can crushed tomatoes
1 red bell pepper, small diced
3 cloves garlic
1 teaspoon salt or more to taste
1 tablespoon paprika
½ tablespoon cumin
1 tablespoon harissa paste, preferred Les Moulins Mahjoub brand
½ teaspoon sugar
Juice of half a lemon
Handful of chopped parsley and basil
4 eggs
1 block feta, we recommend Mt Vikos
To Make Your Shakshuka
Sprinkle the eggplant with salt and let drain in a colander/strainer for 10 minutes. This draws out any bitterness and extra moisture from the eggplant.
Heat the oil in a large oven-safe skillet or dutch oven.
Add the onion, bell pepper, garlic, paprika, salt, cumin, chili flake. Sautee on medium heat stirring often.
Once the onions and peppers are soft, add the eggplant and cook until soft.
Then stir in the crushed tomatoes. Simmer for 5-10 minutes.
Make four little wells in the center of the sauce. Add an egg to each.
Sprinkle the crumbled feta over the top.
Bake uncovered for 7-10 minutes at 375 until the eggs are just set.
Serve with matzo/bread of your choice and more harissa if you dig spice!
Wine Pairing: Chianti or Sweet German Riesling, or a New Zealand Pinot Noir, see specific suggestions from the Bottles team at the bottom!
Fennel Apple and Pistachio Salad with Citrus Dressing
As a side, serves 4
Tossed in a bright grapefruit vinaigrette, this salad is light, colorful and perfect for any spring Holiday meal. We shave the vegetables to give it a delicate crunch, and make sure you get a burst of complex flavor in every bite. The chefs kiss is really the pistachio- its sweet flavor and smooth texture compliments the tart fruit, as well as that delicious cheese. Pecorino dei Monti Sibillini is a rare special addition; adds a subtle spice, herbaceous note, and of course salty bite to this sweet and tart spring salad.
You'll need:
1 granny smith apple
1 medium bulb fennel
2 packages baby salad greens, we recommend Three forks Local
1 small block pecorino cheese- we recommend Monte Sibillini, found in our cheese department
Finely chopped chives for garnish
1 cup shelled pistachios- have a nut allergy? Use sunflower seeds!
Citrus Dressing:
Whisk in a bowl, or use a blender to combine:
-juice from half a grapefruit,
-a splash of sherry vinegar,
-one teaspoon of honey
-1/3 cup olive oil
-1/2 teaspoon salt
-¼ teaspoon pepper
To Assemble Your Salad
Cut apple into matchsticks and toast your pistachios.
Cut fennel bulb in half, cutting off the hard core. Thinly shave the fennel.
In a large bowl, mix the baby greens with the apple, fennel and pistachios.
Lightly toss with a small amount of citrus dressing, adjusting to your taste.
Top with pomegranate seeds and shaved pecorino.
Wine Pairings: A full bodied white or tannic red, Chianti or Sauvignon Blanc
Wine Pairing: A Pinot Grigio, Chardonnay or a Dry Prosecco! See specific suggestions from the Bottles team at the bottom!
Wines to Pair with these Recipes!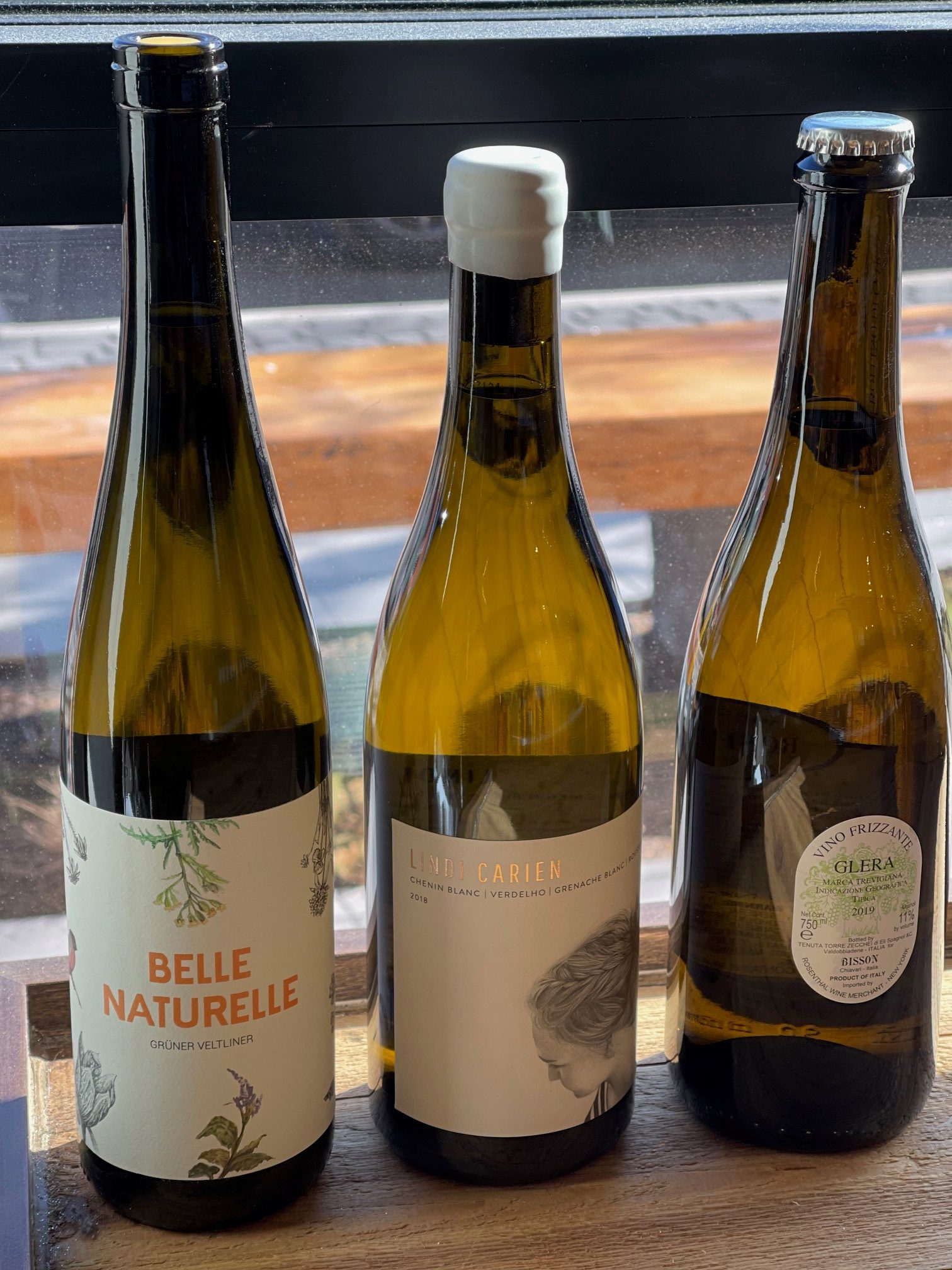 Isle Saint-Pierre, Vin de Pays de Méditerranée Rouge
2019 | Rhône Valley, FR | 20% Merlot, 20% Cabernet Franc, 20% Arinarnoa,20% Petit Verdot, and 20% Carménère
Appellation Méditerranée
Founded in 1927, Domaine Isle Saint Pierre is located on a small island in the Rhône River. The blend is achieved to reach the typical fruity-spicy character of this wine (Merlot and Cabernet Franc) but also to bring some nice structure and add a layer of complexity (Arinarnoa and Petit Verdot). Primarily Cabernet Franc and Merlot farmed organically from southern France, this wine boasts bright fruit, fresh aromatics, and hints of spice. lively, easy-drinking "bistro-style" wines that are perfect for everyday drinking! Organic.
Dashwood, Pinot Noir Marlborough
2018 | Marlborough, New Zealand | 100% Pinot NoirOpens with juicy red-fleshed Black Doris plum accented by notes of wild berries. This has very attractive red-cherry, brambly complexity with vibrantly spicy, juicy, strawberries & wild raspberries with spice characters following through on the palate. Warm, soft tannins & velvety texture. As is the tradition at Dashwood, this Pinot Noir is bold, fresh, direct, elegant & balanced. It delivers ripe, black cherry fruit notes & soft, broad, well-integrated tannins.
Ruby Red Rose with Grapefruit NV
NV | Côtes du Provence, France | 80% Côtes du Provence Rosé, 20% natural Ruby Red Grapefruit juiceGrapefruit wine Is France's latest obsession! This Ruby Red Rosé is a huge hit in Paris and popularity is sweeping across ALL of France. Ruby Red is a uniquely crafted rosé infused with subtle grapefruit flavors. Mixing dry wine with fresh fruit juice is an old French tradition born in the South of France and this one is excellent. With a youthful pink hue, it was created to be sipped all day long while enjoying the sunshine. A beautiful grapefruit bouquet jumps from the glass followed by a thirst-quenching explosion of juicy fruits with an elegant touch of sweetness and a refreshing grapefruit finish. It is wonderfully delicious, refreshing and perfect as an aperitif or with casual meals. Great with spicy & exotic flavored dishes or as fun refreshment after a meal. You can even make it a Cocktail! Mix with Champagne or Prosecco and serve chilled for a wonderful summer libation.
Poggio Anima, Terre di Chieti Pecorino Gabriel | 2018 | Abruzzo, IT | 100% Pecorino A luxurious, bright wine, with delightful muscularity on the palate. It's a fresh fruit picnic of citrus, melons & pears in a flowery meadow, with a slight honey drizzle on the dense, rich & decadent fruit. Takes you through pear & apple orchards that end with a welcoming salty, lemon zesty finish. This bottle is a perfect white wine for cold & lazy winter Saturdays when you don't want to go outside & the sofa is the perfect place to be. Sustainable.
Saint Clair Family Estate, Sauvignon Blanc
2019 | Marlborough, NZ | 100% Sauvignon Banc
Tropical notes of passion fruit, grapefruit and blackcurrant combine with salty mineral notes.
Palate: The palate is rich and weighty and full of flavors of grapefruit and blackcurrant along with green notes of nettle and capsicum. A subtle sea salt character leads to a long lingering mineral finish.
Jurtschitsch, Grüner Veltliner Belle Naturelle
2019 | Niederösterreich, Austria | 100%Grüner Veltliner
This clean, dry white is made on terraced vineyards in Langenlois, Austria. It's macerated for ten days on skins. E elderflower and chamomile on the nose with floral, black tea and wonderful white pepper notes on the palate.
Naturally cloudy. Turn gently before opening, do not store above 20 °C.
Orange wine. Biodynamic.
Lourens Family Wines, Lindi Carien White Blend | 2019 |Western Cape, South Africa | 50% Chenin Blanc – 42% Verdelho – 8% Grenache Blanc
Alluring aromas of Asian pear, nectarine, orange and lemon zest with hints of dried herbs and a bit of flinty reduction. The palate is dense and pithy with a creamy richness that is by no means heavy. More citrus notes emerge with chiseled wet stone in the background and leading to a mouth watering finish with fine acidity.
Dry-farmed – Practicing Organic
Bisson Glera 2019 | Valdobbiadene, Italy | 100% Glera
Bisson Glera is crisp, clean, delicate, and driven by essences of lemon water, lime skin, fresh herbs, mountain flowers, and a chalky minerality. First and foremost, this is gorgeous white wine that also happens to have bubbles. Pierluigi bottles this would-be-Prosecco at a gentle 3.5 atmospheres of pressure which means this softer and easier to drink than your average sparking wine. This is one of those wines that disappears from the bottle
To see our selection of Kosher Wines click here.