Garden 101: Getting Started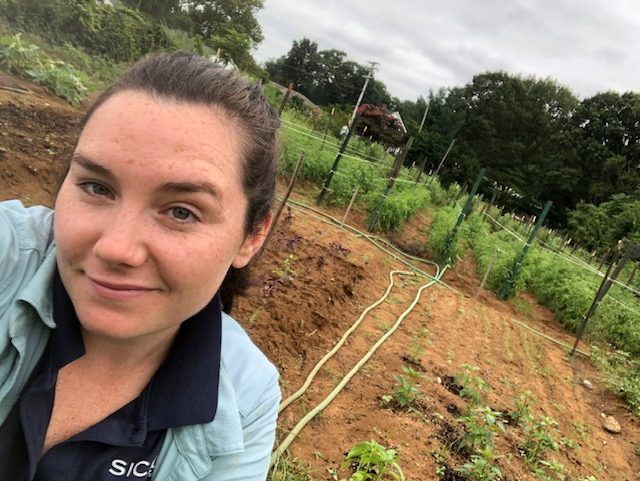 Our Garden Center team is a great resource for tips on starting or maintaining your garden. Collectively they have decades of experience growing in the area. But since so many have been interested in growing a "Victory Garden" we took a moment to sit and talk with Kelsey Forsyth, our lead farmer/grower, about some Gardening Essentials.
Kelsey has a hand in growing many of the plants we sell in the Garden Center, something that is increasingly rare. The plant you take home she may have started from seed. Before working on our farm, Kelsey completed the Middlesex County Master Gardener Program and worked on NYC's High Line. Kelsey's advice to the beginner is refreshingly simple: be patient. Gardening is a process that should bring you joy, not stress. To keep things in perspective she recommends maintaining a journal and taking photographs. These will help document and provide reference, pinpointing what is working or not. Photographs would be especially useful when consulting with our Garden Team about an issue.
To get started on a Victory Garden, Kelsey recommends growing vegetables that you are already familiar with, and are well-suited for our growing zone, like tomatoes, squash, and peppers. We have all in our Garden Center, ready for you to transplant as a seedling, or available in seed for those who want the full experience. For those who have limited space or want to start small, consider our patio plants, potted and easy to move. We'll make it easy for you to have some fun, and in no time you will have supper ready veggies from your garden.
Herbs are also very easy to grow, which bring an extra benefit of natural pest management. Deer for example do not like strong smelling herbs like Mint. Planting near your tomatoes will help keep them out, and something fresh for the kitchen or bar. Mojito anyone? Of course no New Jersey Garden would be complete without Basil. It is quick growing and easily rewards the gardener with a fresh ingredient for summer cooking and salads. Marigolds are also great in tandem with tomatoes because the attract pollinators, ward off pests, and look beautiful! Fencing will also keep out the Deer, and we have quick options for that, too.
It was so fun to talk to Kelsey that in the coming weeks we will continue to talk through the gardening season to learn more. We would love to hear from you about your experiences and your questions. What would you like to learn more about?