Interview with Scott Eirinberg Co-Founder of The Reluctant Trading Experiment
Today we interviewed Scott Eirinberg of The Reluctant Trading Experiment, a company that will change your view of pepper, salt, and other seasonings/spices for the rest of your life. We talked to Scott about the business, what makes this pepper better than the rest, and why quality matters for every ingredient.
What did make you reluctant at first, and what changed your mind?
When my friend in India, Mr. Divakar, started talking to me about peppercorns back in 2012, I had no interest. I thought pepper and spices were all the same. Why would I want to sell a commodity product? I didn't know a Tellicherry peppercorn from a telephone pole. Mr. Divakar kept talking to me about the pepper. He kept asking me if he could send samples. I kept saying no. Just to be nice, I said ok. Then he sent me samples of the Tellicherry peppercorns. I tried the pepper and my whole world was turned upside down. The aroma and the taste were like nothing I had ever experienced.
Do you still get the Tellicherry peppercorns from that same location in the Wayanad Hills?
Yes, our pepper still comes from the same area in southern India. My friend Divakar is always traveling to the farms in the area to find the best Tellicherry available. Having my partner on the ground in India makes all the difference so he can locate the best stuff available at any given time.
What is the major difference regarding this pepper? What makes it stand out from other brands?
Our Tellicherry is specially selected at the source by my partner. Tellicherry peppercorns are larger than regular peppercorns and a smaller percentage of the crop. They're not the hottest, just the most aromatic. Lots of citrus notes. They're beautiful and nuanced like a fine wine. Yes, peppercorns! We always buy our peppercorns fresh from the harvest and we never warehouse our peppercorns in India. Divakar ships them directly to us without changing hands. We offer the closest thing to farm-to-table spices in America, never buy through middlemen where spices sit and get stale. We turn over our supply several times a year.
So after getting led to India for Pepper, how did you end up in Iceland for Salt?
Once we launched our Tellicherry Peppercorns, I knew we needed to find a salt that was as special as our peppercorns and had an equally interesting story. I spent a lot of time tasting different salts from around the world. I came across Icelandic Flaky Sea Salt and it was love at first crunch. Found out that several Michelin Star chefs in Copenhagen were using the stuff. So I knew I was onto something. I took a trip to Iceland to see and learn more and see how it was harvested. It's fascinating.
The whole operation is situated on top of a geothermal energy source. The natural heat from below the earth is used to heat the seawater to create salt. The entire operation has no carbon footprint. The salt has a beautiful texture that can be crumbled onto food with your fingers. Unlike Maldon Sea Salt from England, Icelandic Sea Salt is harvested in a completely natural way. No preservatives or processing. The salt has a beautiful flake structure and is incredibly delicious. A perfect companion to our Tellicherry Peppercorns. Our Icelandic Sea Salt is delicious on meats, pasta, pizza, seafood, salads, and sweets too.
The video behind your story is so beautifully crafted, the comedy in it is tighter than most tv pilots! How did that all come together?
Thanks for the kind words. That little film was made by a close friend that I met in college, Barton Landsman. He's a brilliant and hilarious guy that had a successful career as a TV commercial director. He's shot commercials for all the big brands. We met while studying advertising together at the University of Illinois. We both started out as advertising copywriters many years ago. Right after I started the business in 2012, Barton asked what I had been doing. I told him the story of Reluctant – with all my reluctance and Mr. Divakar constantly asking to send me the pepper.
He loved the story and insisted on making a little film about it. Barton initially wanted to cast someone to play me, but eventually decided I'd be best playing myself. Barton is such a perfectionist, he asked me to try out for the part. Can you imagine being asked to audition to play the role of yourself? Of course, I was incredibly excited when Barton called to tell me that I got the part to play myself. My wife said, "Why are you so excited? Of course, you got the part. Who else would be better at playing you!" She was right, but for some reason, I was still excited.
What is your current favorite spice, salt, or pepper on the line-up? What do you end up using the most in your own home cooking?
It's hard to pick a favorite spice in our line-up. But I'd have to say it's our Tellicherry Peppercorns. People don't think a whole lot about pepper. But you practically use the stuff in more dishes than salt. It's a really important ingredient! Amazing pepper elevates everything. I use it on just about everything. Did you know you can use pepper on fresh berries? Believe it or not, it's really nice.
How do you get folks to care about the quality of salt, pepper, and seasonings when they are widely available from so many other brands?
Well, certainly fantastic partners like Sickles Market help us quite a bit with free samples and tastings. Once someone tries our pepper, they're hooked for life. However, most don't believe there will be a difference until they taste it. Most everyone thinks pepper is pepper. So having a store like Sickles supporting us is a big deal.
Unfortunately, we haven't figured out how to offer scratch n' sniff for our spices online. We try to explain how we select our spices differently and then cut down the time from farm to table to keep the freshness of the special stuff we select. Most people just don't know that fresher spices are possible or even make a difference.
We are very careful about the spices we offer, only adding spice to our collection once we know it is truly special. We vet each and every spice with top chefs from around the country. Once we know we have something special, we add it to the collection.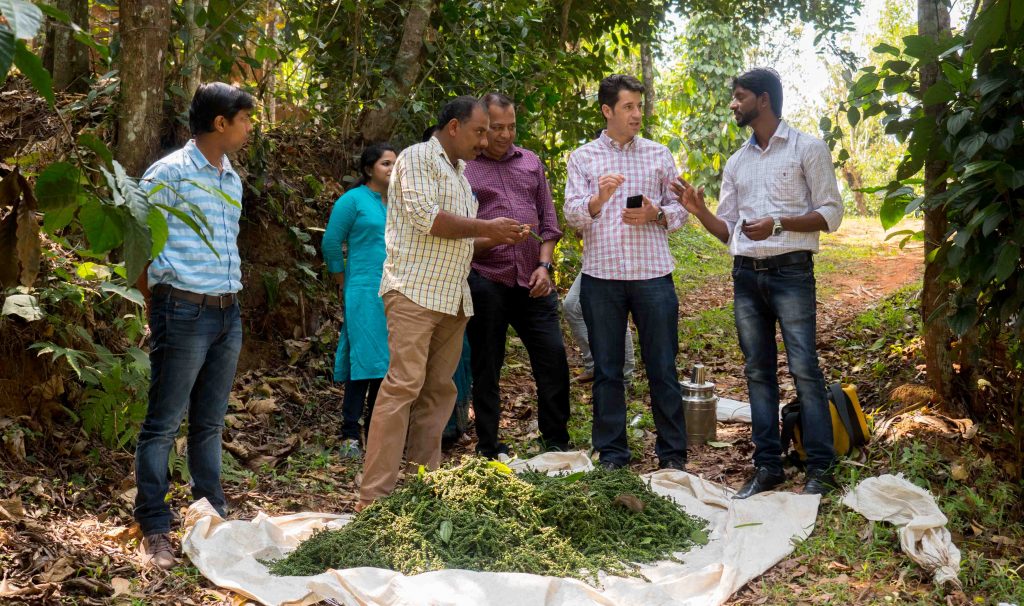 What spice is more versatile in its use than people think it is, and what dishes should we be using it on?
Our Ceylon Cinnamon is incredibly versatile and delicious. It's a whole lot more subtle than the more commonly found Cassia Cinnamon. Instead of that hit-you-over-the-head traditional cinnamon, our Ceylon Cinnamon has a subtle range of notes that play along with all sorts of different foods. Wonderful for baking, but also for teas and curries. I love how it doesn't overpower the other ingredients. It's a true team player.
Read more about The Reluctant Trading Experiment here!
And read more of our blogs here!