Love in a Glass: Enjoy these Bottles pour Deux!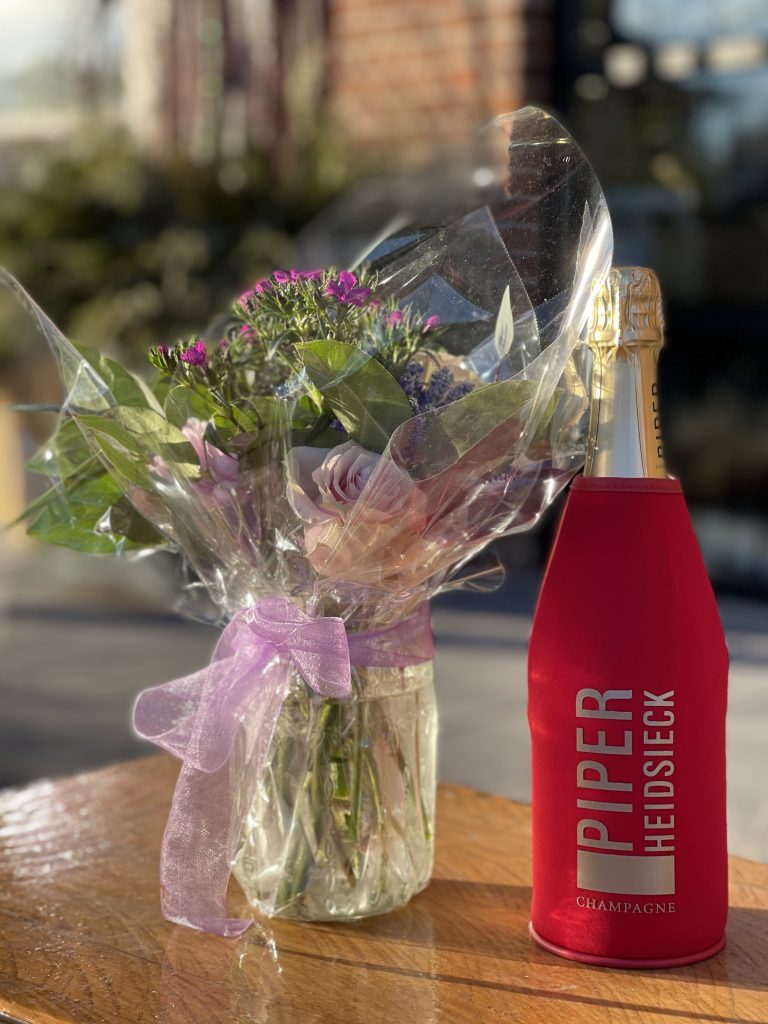 Bottles by Sickles is well stocked with wines that couldn't be more perfect to share with your loved ones. Read on about our highly rated, selection of bubbly, sparkling, red and rosy selection! Bottles will have flower bouquets and arrangements for the occasion to make it that much more convenient for you! Ok let's talk about our selection……
Piper Heidsieck, Cuvee Brut ZIP NV | Champagne, FR Pinot Noir and Chardonnay
A classic, well-structured, and fruit forward champagne offering a joyful display of neat, lively bubbles. Notes of almond and fresh hazelnut accompany the subtle, light, smoothness, that is marked by the pureness of fresh pear and apple and a delicate hint of citrus fruits. A blend of bright, crunchy pomelo, and juicy white fruits; all beautifully balanced. Lithe and vibrant, this graceful Champagne is driven by well-knit, racy acidity, carrying flavors of ripe black cherry, grated ginger, toast point and mineral on the satiny mousse. Crisp and clean, with a classic bouquet of orchard fruits, toasted bread, and a touch of minerality. It's beautifully textured and has a solid mid-palate, good density, and a clean, crisp finish, all making for a high-quality Champagne to enjoy over the coming 5-7 years. $51.99
#95 Wine Spectator Top 100 of 2019 | 92 Wine Spectator | 90 Wine Enthusiast | 90Robert Parker's Wine Advocate
Velenosi, Vino di Visciole NV | Marche, IT | Fortified — Aromatized
Intense & rich, with sensual notes of purple flowers & ripe, pulpy red fruits jam. Elegant & soft, highly persistent & fresh. It is captivating, full-bodied, tangy, fresh and well-orchestrated. Clear floral taste, round, well-defined savory sweet cherry, blackberry & blueberry jam. An intriguing wine that's perfect with petit fours and/or bitter chocolate. It can also be consumed as a digestive at the end of a meal. $24.99
Col Dei Venti Brachetto DOC "Girotondo"Nv | Piedmont , IT 100% Brachetto
Name "Girotondo", or "ring-around-the-rosey" in Italian this is a delightful and playful sparkling ruby red Italian grape from the Piedmont region of northwest Italy. It is intense, aromatic and elegant with scents of dried roses and rose petals. It comes across as sweet, refreshing and fizzy from natural fermentation. Ideal for the end of your meal. Excellent with any kind of chocolate, biscuits or pastries. Also delicious with strawberries and other berries. Drink chilled. $20.99 
Roederer Estate Winery, BrutNV | Anderson Valley, CA | 60% Chardonnay & 40% Pinot Noir
Roederer Estate Brut, was the first California sparkling wine produced by Champagne Louis Roederer. It starts with a fresh, open nose of pure fruit: crushed apples, pears, lemon peel flowers and toast mingling with a touch of stone. Crisp, fruity and citrus-accented, this medium-bodied wine has plenty of green apple and lemon flavors, minerally accents, brisk bubbles and a clean, tangy finish. Flavors of fresh-baked bread and a softer texture develop with time in the glass. The finish is long, opulent and ultra fresh. An elegant start to a dinner party. Roederer's winemaking style is based on ownership of the vineyards and the addition of oak-aged reserve wines to each year's blend. All the grapes for are grown on the estate. $34.99 
Robert Parker's Wine Advocate – 93 pts. | Wine Spectator – 92 pts. | Wine Enthusiast – 91 pts. | Wine & Spirits – 90 pts.
Vilmart & Cie, Cuvée Rubis Champagne Brut Rosé 1er Cru NV | Champagne, France | Pinot Noir & Chardonnay
Generous and expressive, this salmon pink wine is rich and elegant. On the nose, it's bursting with red strawberries, wild raspberries, plums, and blood orange aromas. As it develops, lovely aromas of lilac, star anise, rhubarb, vanilla, potpourri and smoky minerals waft from this graceful rosé Champagne. The flavors are ripe, fleshy well-meshed white cherry, apricot, pink grapefruit sorbet, floral pastille and pickled ginger. Full-bodied with a pleasing tautness imparted by the backbone of fresh juicy acidity. The effervescence is long-lasting and leads to a delicate mousse. This wine is well-balanced, pure, full of interesting nuances and shows excellent focus and power on the fine, satiny finish. Drink now through 2025. $86.99 
Robert Parker's Wine Advocate – 92 pts. | Wine Spectator – 94 pts.
Pol Roger, Champagne Brut Rosé 2012 | Champagne, FR | 60% Pinot Noir, 40% Chardonnay
The expressive, opulent and well-structured nose offers an appealing and fragrant rich, spicy depth. The lovely bouquet of stunning strawberry, raspberry, plums, blood orange, toasted brioche and spice notes waft from the glass with energetic freshness. The taut palate has a refreshing backbone of acidity, that rounds out to a sensation of bursting red currants. Ripe cherry, pomegranate and blood orange sorbet flavors are well-knit to the sleek, mouthwatering acidity in this elegant rosé Champagne. This full-bodied wine's ripe, racy acids are balanced by considerable texture and concentrated well-grained tannins. Terrifically rich and subtly plush, the fine mousse is effusive in the glass and stays through the lively and impressively long minerally finish. Savor now for freshness or keep for years to come for a richer and more opulent wine. It is the ideal choice to accompany grilled salmon or sushi. It marries perfectly with fruit tarts and other fruit desserts; try pairing with a "forced rhubarb fool", the sharpness of the fruit complements the elegant structure of the wine. Drink now through 2030. $99.99
Robert Parker's Wine Advocate – 94 pts. | Wine Spectator – 94 pts. | Wine Enthusiast – 93 pts. | Decanter – 93pts.