Runamok Maple: An Interview with the Maple Syrup Innovators
Runamok Maple based in Vermont produces pure, infused, smoked, and barrel-aged maple syrup along with a line of maple-based cocktail syrups and cocktail bitters. We at Sickles have loved Runamok for years now. Their products are top quality, whether it's pure maple syrup or more experimental infusions. They have taken an American classic to new levels that we've never seen before. Runamok founders also have an inspiring dedication to sustainability and social responsibility. We're honored to interview Laura Sorkin, she is the talented co-founder/owner of Runamok Maple.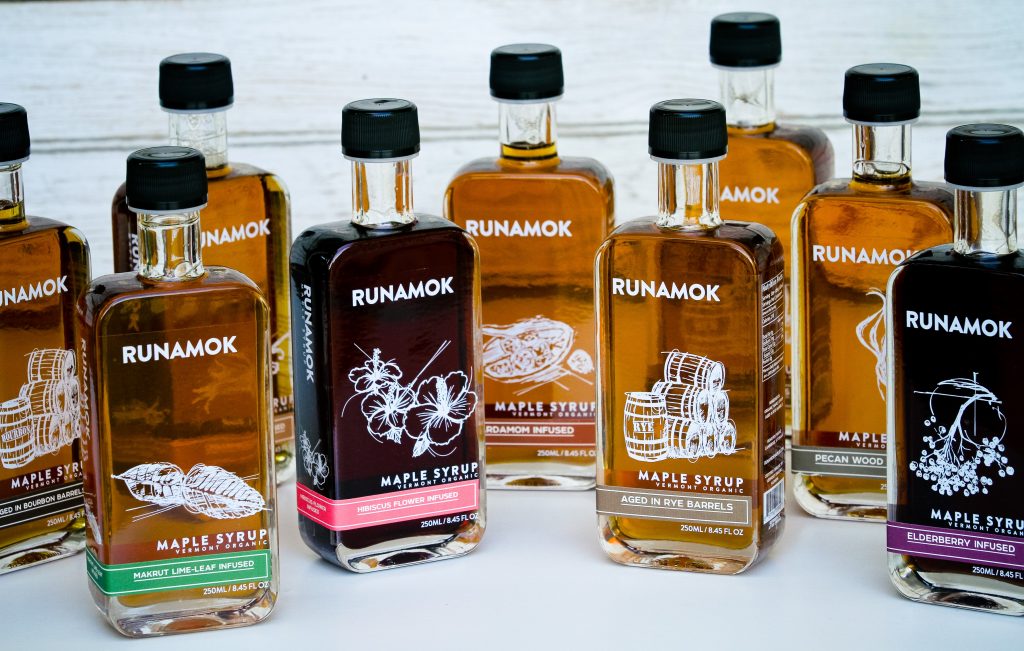 How did you get into the world of maple syrup, did it start out as a hobby?
We started as organic vegetable farmers. Both Eric and I were working for environmental non-profits down in D.C. We had always talked about starting an organic vegetable farm in our retirement but after a year in the beltway, we thought, 'why not now?'. The reasonable answer to that question is that we had zero experience in agriculture and no land but we moved to Vermont and jumped right in. The property we bought was an old sheep farm that hadn't been farmed since the 1940s and was completely overgrown. Most of our land was steeply sloped forest on the side of Mt. Mansfield with roughly ten acres of the arable area below. We had a CSA (Community Supported Agriculture) and sold produce to local markets. It was a phenomenal time and I loved every minute of it but it wasn't sustainable financially. In 2009, we took a good look at our natural assets and decided to switch to maple syrup. Eric apprenticed with another sugarmaker to learn the ropes and we started off with 27,000 taps, which, at the time, was considered large. We've grown every year, not only in our own sugarbush (70,000 taps) but in taking on sap from other areas (anywhere from 12,000 to 40,000 additional taps).
What is the process of coming up with new flavors? When does inspiration strike?
Both of us have been very fortunate to have traveled extensively. In addition, I have a degree from the French Culinary Institute and some time in New York restaurants. We are both really into cuisine from all over the world and discovering new flavors and in choosing new herbs and spices for the infusions, there is nothing we won't try. When we first started, we went with classic combinations, like cinnamon and vanilla. But then we got out the spice rack and had a go with more unusual combinations like cardamom and Makrut (Thai) lime leaf. The results were incredible. We found that maple syrup is complementary to a wide variety of flavors which can take the syrup in so many different directions. It was Eric's suggestion to try the Makrut infusion. I couldn't fathom how that would work but we took a few leaves from a friend of ours who kept a potted tree in his house and it is now one of our favorites – delicate and floral, absolutely delicious over fresh fruit or coconut ice cream. Since then, there is nothing off-limits. We've had some truly awful concoctions (don't ever put wasabi in maple syrup) but generally, we've been amazed at how versatile it is.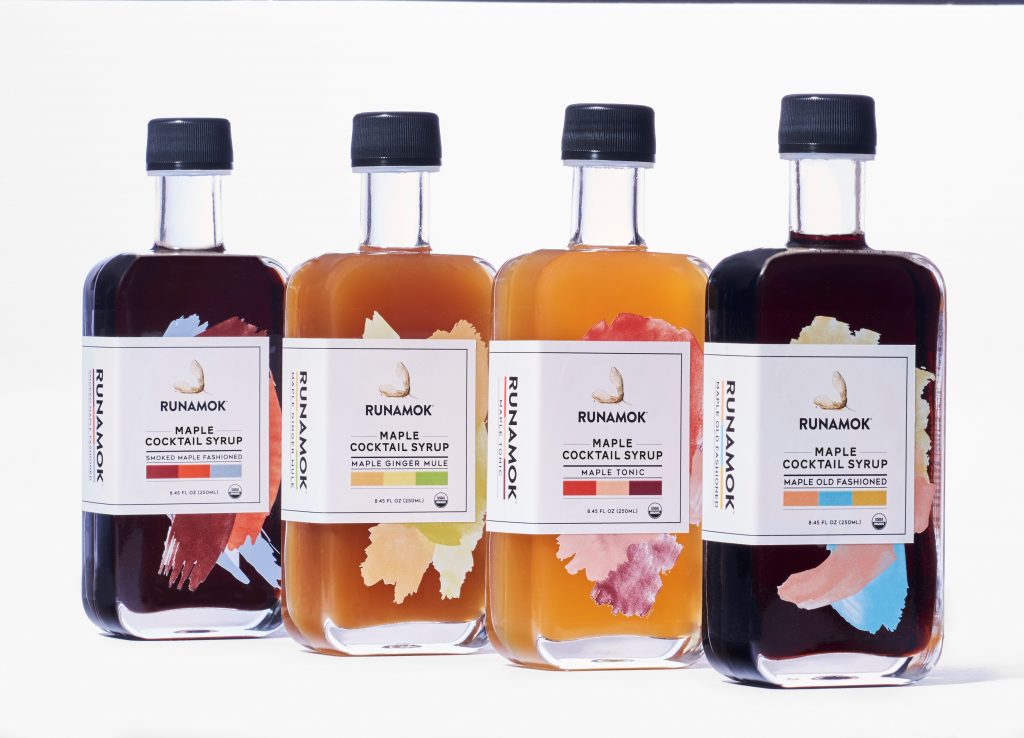 For years people have been using maple syrup in cocktails, how did the idea of making your own mixers and bitters come along?
Making our own mixers was a natural extension of our years creating cocktails with our infused syrups. From the start, we realized that the infused syrups would make great ingredients for craft cocktails. Most mixed drinks contain some form of sweetener, usually a simple syrup you have to make with granulated sugar. Maple is already in syrup form and brings with it a depth of flavor that far surpasses plain sugar. When you add in the infused maple syrup, you have the opportunity for some real fun and creativity in your cocktails, especially the ones with some oomph to them like Hibiscus or Ginger Infused. I have created over 65 cocktails, mocktails, and smoothies using our infused, smoked, and barrel-aged syrups. I would say that creating them is the enjoyable part but, frankly, naming them is just as fun (see 'The Wardrobe Malfunction' and 'Goodbye Kitty'). With all of this experience in using maple for cocktails, we realized we had the know-how to make a stand-out mixer that already had all of the components for a really good drink. Since maple and bourbon are excellent companions, an Old Fashioned was definitely going to be one of them. We found a touch of Smoked Maple brought out the best in whiskey so the Smoked Old Fashioned was also going to be included. But our Ginger Infused Maple was also so good in cocktails that the Maple Ginger Mule was an easy pick for the line-up. Adding the Maple Tonic was a nod to another classic that we love. This is not your typical tonic water, but instead has a rich depth of flavor that elevates any G&T to another level.
The bitters came about because of our vast experience in infusions. We only use real, natural ingredients, never artificial flavors, so we know how to extract the perfect balance of flavors from herbs and spices. Infusing is an art in timing, temperature, and proportions. Making bitters calls on all of these skills and we liked how they tied in with the line of mixers. Though they have maple syrup as an ingredient, make no mistake, these are quite bitter, as they are intended to be. They are excellent in cocktails but personally, I have enjoyed doing a deep dive into how one can include bitters in baking. Using them the same way you would vanilla extract brings out the nuance in cakes, cookies, and glazes. For example, I made some Linzer cookies and added a teaspoon of the Maple Floral bitters to the layer of strawberry jam sandwiched in the middle. We did a taste comparison between the cookies with and without the bitters and the bitters won, hands down. Of course, a few drops of Orange Maple Bitters in a hot toddy is also pretty scrumptious.
Like many companies in VT, you have big stances on Sustainability and environmental impact. Was social responsibility part of the discussion since day one?
Definitely. Eric and I both have a Masters's degree in Environmental Management and have always aimed for the most environmentally friendly practices in our business. Producing maple syrup is already a great model for conservation coexisting with agriculture. Our workspace is a natural forest that we do our best to have the least amount of impact on as possible. The sap lines are running throughout but otherwise, the woods are left undisturbed as natural habitat. We mitigate for soil erosion, leave dead trees alone (they make great habitat), and are mostly not even in there for ⅔ of the year. Consequently, our 1,000 acres in Cambridge are home to bear, turkeys, bobcats, flying squirrels, coyotes, deer, moose, and numerous other wildlife. We were one of the first sugarbushes to be certified Bird-Friendly by Vermont Audubon.
As for our production facility in Fairfax, we installed solar panels on our roof which meet 100% of our electricity needs. We've analyzed our packaging to make sure we use the least amount of materials necessary to get our bottles to consumers safely. And we've even looked at smaller steps like compostable sample cups for trade shows.
Can you tell us about the endurance during the sap collecting and boiling process?
When you understand how much work goes into producing maple syrup, the price tag on the bottle makes a bit more sense. As I mentioned, we work in a natural forest during a time of year that is cold and snowy. When it comes time to tap, the woodscrew head out every day, no matter what the weather. As they were this year, they are often walking through 3' of snow with 20lbs of gear on them to get from tree to tree. Given we have 70,000 trees to tap, it can take 12 people 4 – 6 weeks hiking steep mountainsides, in the snow to get the job done. They are among the hardiest, fit people you will meet.
Once the temps warm and it is above freezing during the day, the sap will start to flow and the boil crew starts. When the sap comes in you need to boil it right away so there are many days when work goes late into the night to process it all. The sap may flow for weeks or days but generally, it will go on and off from late February to late April. It takes 40-50 gallons of sap to make one gallon of maple syrup. We have much more information about both tapping and boiling on our website's blog if you'd like to read about more nitty-gritty details.
What's an unconventional food that you like to add syrup to?
Maple syrup on cheese is wonderful. Consumers have grown accustomed to putting honey on cheese but maple syrup is just as good. Our Smoked Maple Syrup is phenomenal on sharp cheddar and the Elderberry Infused works some kind of magic on blue cheese that brings out its best characteristics. You can put out a small bowl with the syrup and provide toothpicks for guests to dip a square of cheese into. You will see a lightbulb go off above their head, I promise. I've explained how well maple works in cocktails and other drinks but can't stress enough how easy it is to sweeten everything from lemonade to iced tea. I also use maple syrup quite often in Asian food, like stir fry. An easy sauce is one part soy sauce to one part Cardamom or Ginger Infused Maple. The first restaurant I worked in in New York served Thai-French cuisine and I learned a lot about the triad of sweet-salty-spicy elements for a well-balanced dish. Thai food often uses palm sugar for the sweet component and I found maple syrup is even better. With all of these dishes, I'm not aiming to make them sweet, but to use the maple syrup to build flavor and complexity in the overall dish just like when you add salt, you are not trying to make the dish salty but to amplify the flavors of your other ingredients. Adding a touch of maple syrup works in much the same way.
Sparkle Syrup is most different from your other products, how did this come along?
Sparkle Syrup came out of an improbable idea that coincided with an awful year. Eric saw a company that produced Glitter Beer and wondered if it would be possible to do something similar with maple syrup. Our r & d team went to work with some FDA-approved, pearlescent mica and the result was a very shimmery syrup that tasted like regular, delicious maple but shined like gold. Honestly, I wasn't sure if it was entirely on-brand since we have always emphasized flavor as our objective but then the pandemic hit. We realized we had a product that was just plain fun and with all of the hardship of 2020, fun was as needed as flavor. When we released it, people went berserk. Parents were sending us video clips of their children absolutely giddy over Sparkle Syrup being poured over their pancakes and fruit. We were pleased that Sparkle sold so well but was happier that it contributed a little lighthearted goofiness in an otherwise difficult year.
What are your current favorite products, whether it's a classic or something brand new?
My favorite is both new and old. We have always produced a Whiskey Barrel-Aged Maple, which is made in rye whiskey casks. Our Bourbon Barrel-Aged is our most popular but I think the whiskey is even better. Rye has a sour note to it which is a nice addition to the sweetness of maple. It is always my first choice for pancakes and is phenomenal on butter pecan ice cream with sliced bananas. We recently partnered with Whistle Pig Distillery to use their barrels exclusively for this syrup. Whistle Pig is a Vermont brand that has national recognition for top quality rye whiskey and we have collaborated with them on a few projects. This April we are releasing this new version of Whiskey Barrel-Aged in new packaging and I'm hoping our consumers discover how incredible this new/old syrup is.
Any flavors you can tease that you are currently working on?
We are always working on new flavors. I can't reveal anything now but there should be at least two more new releases coming out this year.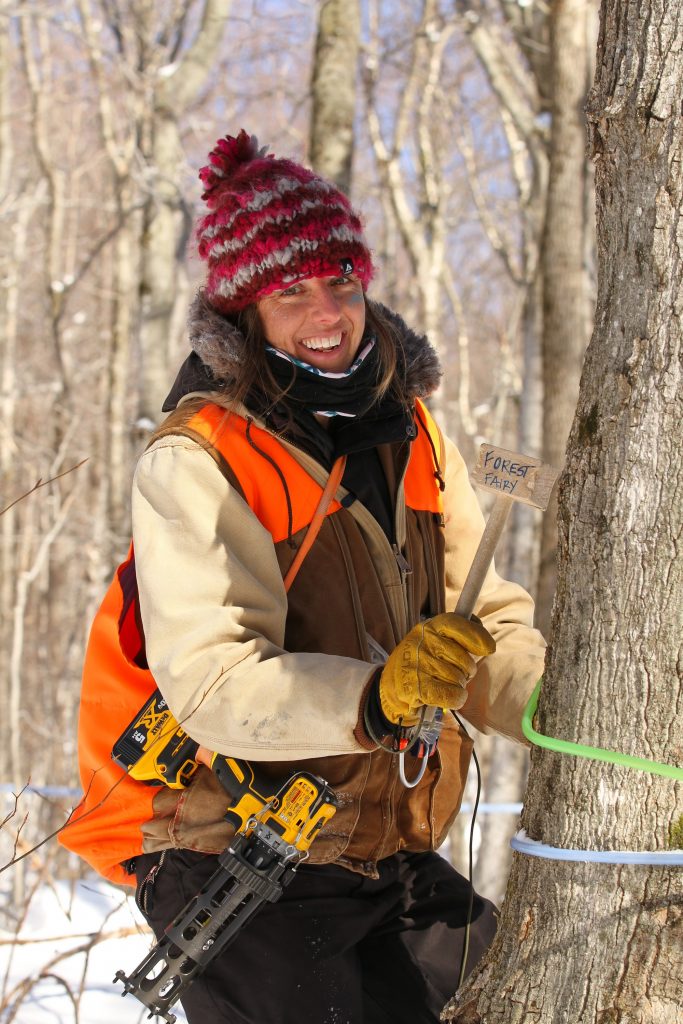 What does it mean to be a maple syrup-based company in Vermont?
Vermont is known for excellent products like beer, cheese, and maple syrup. It has to do with a culture that appreciates quality, but also, that good food can only come from a healthy ecosystem. We are very fortunate to have clean air and water here, as well as healthy forests and grasslands.
Though Vermont produces the most maple syrup of any state, the community is small and everyone knows everyone. We recognize that we are newcomers to an industry that has deep roots here and we try to be respectful of that history. At the same time, we are excited to take maple to new places and show that it has more uses than just for pancakes. When sugaring operations across New England started to increase in size, there were questions about whether the market was going to be saturated. Since entering the retail market, we've learned that the market is wide open both nationally and internationally. Real maple syrup is still not the norm on breakfast tables outside of our region and there is room for everyone in maple to benefit.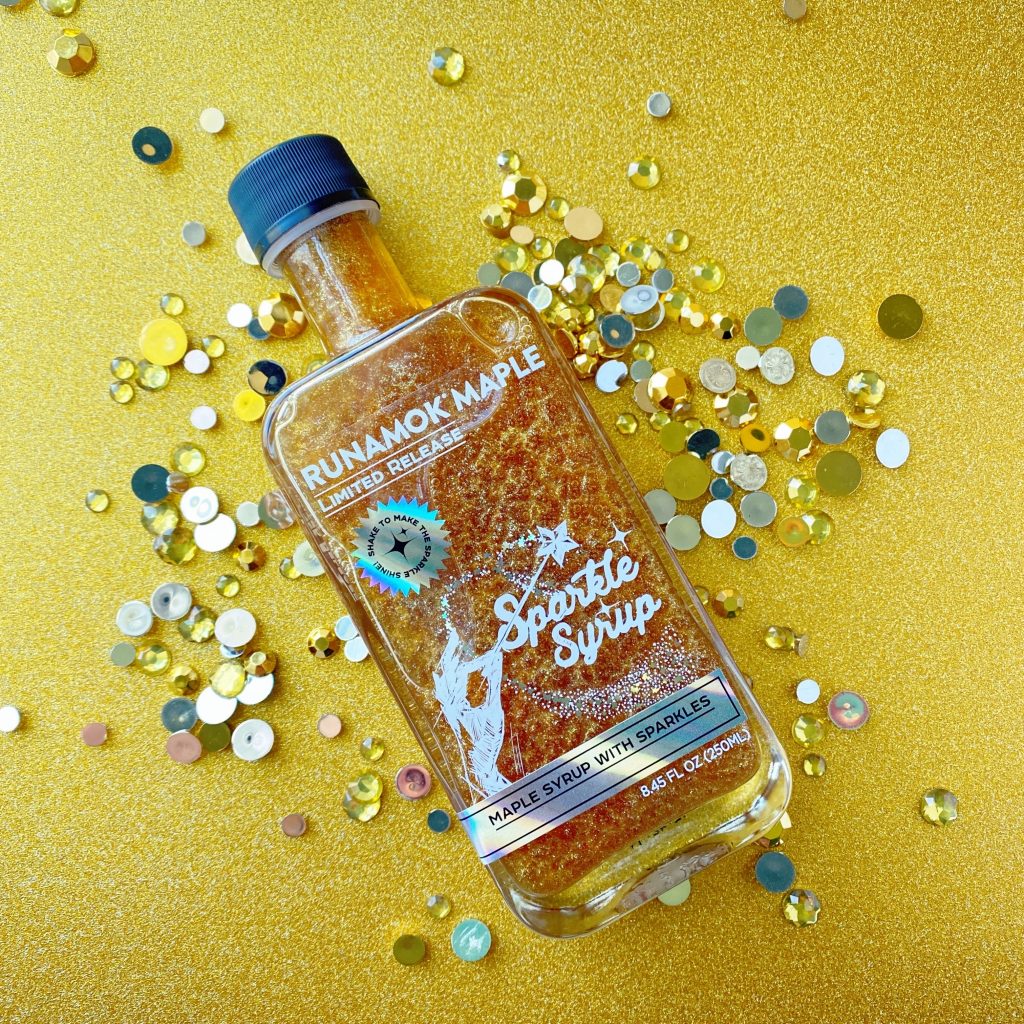 Sparkle Syrup is in stock in Sickles Red Bank this week! Other Runamok products are located in both stores!