The Most Delicious ways to Enjoy Summer Tomatoes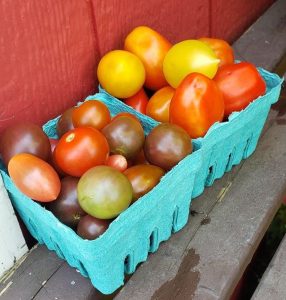 The tomato, the official fruit of NJ. Sweet, tart, and tangy all in one bite, a natural yet balanced in flavor. You could say that Sickles Market all started with a tomato, it's this type of beloved fruit that began our 112 year old business which began as a farm stand! This summer we grew our own tomato plants that we sold in the garden center, we are also currently harvesting the heirloom tomatoes we grew, pictured here! Our Jersey tomatoes in the produce department come from Maugeri Farms in Swedesboro, NJ. It's safe to say we have a deep love for the tomato…on our sandwiches, salads, dressings, condiments tomatoes can be made into a very complex dish or it can simply be eaten by itself, so let's start there!
Sliced and Salted with olive oil
Simply cut into thick slices and sprinkle on some salt and a dash of oil. A perfect refreshing snack, it can get messy if those tomatoes are juicy but we like it that way.
Tomato, mozzarella, basil, olive oil
A slice of Sickles Own' mozz, then a slice of tomato, a bit of basil. Salt, pepper, and Olive oil. BOOM. An easy appetizer to serve before dinner or bring to a friend's house.
Charred bread, tomato, ricotta
Using a nice baguette, make this open faced delight. Char the bread on a pan with olive oil and little grape tomatoes, spread on some ricotta on the charred bread (Pro Tip: Mix in some excess olive oil from the pan into the ricotta) and top it off with your tomatoes. Then…experience the perfect bite.
Salsa
Make the salsa of your choice with various ingredients around our produce department. Make it mild or spicy, or smooth or chunky! Traditionally you just need chopped up fresh tomatoes, chiles, onions, cilantro, and some lime juice. But explore different recipes the internets have to offer and customize it for yourself.
Tomato-watermelon salad
Summertime in a bowl! salty and sweet, with a hint of acidity. Our high quality tomatoes and watermelon, a dressing of your choice, and Valbreso feta from our cheese section. Pairs well with…sitting in your backyard under the sun! A glass of Rosé is a nice touch too. Read about our favorites here.
Canned Sardine and Tomato Sandwich
Grab a can of Ortiz's Sardines and fresh heirloom tomatoes. Rich, tender and oiled sardines and olives are easy to pack and throw together on the spot! For the bread we recommend focaccia for the most delicious results. Enjoy on the beach, at a picnic, or if you're feeling lazy in your backyard!
Fried…Red Tomatoes
Easier than you think! A great use of our fresh tomatoes to get a perfect crispy and juicy bite! Be careful when dipping tomatoes into the vegetable oil. They should be dusted or completely covered in the bread crumb of your choice!
Fresh Marinara Sauce
Pick up some San marzano Tomatoes in a can and one of our tomato pastes, we recommend Pasate "Fancy" Tomato Paste. If you've made it correctly your homemade marinara sauce will offer a rich and lively tomato flavor.